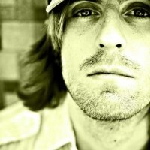 ConversantLife.com has teamed up with C28 stores to offer a free sampler CD of Christian music from indie artists. A new sampler CD will be released quarterly.
Just head over to the Undiscovered website and download the current free music sampler, which includes music from Sleep for Strangers, Caleb and Sol, Scott Tyler, CJ Bergmen (pictured), Joel Hasemeyer, Soulshine, Deep, Aaron Hofman, and Andrew Steven.
And you know the best part?

You don't have to do anything! Don't have to sign up for a mailing list or send annoying emails to three friends or do a handstand or anything. Just click "download here" and viola! Free music! Really and truly free music!
Undiscovered is a place where independent musicians, filmmakers, and artists can showcase their work, network with other artists, and receive feedback. It also boasts original reviews, interviews, and blogs on everything pop-culture as well as targeted industry advice from pros like Nick Bogardus (Manager, Thrice, Cold War Kids, Matt Costa) and Craig Detweiler (Screenwriter, Producer, Director).
The site is an intricate part of the ConversantLife.com faith-based community, and takes a look at all aspects of culture from the highest grossing films to the most underground music scenes.
"Many sites discuss music and film strictly from a faith perspective," says CJ Casciotta, Manager of Undiscovered. "But we believe sometimes an album or movie is worth acknowledging simply because it's a great piece of art. Whether it's discovered or yet-to-be, our platform exists to foster, support, and recognize anything that communicates truth, beauty, and originality. "
For more visit, visit the Conversant Life website.
Get the Gospel Soundcheck headlines delivered daily to your email inbox. Just sign up for the RSS feed by going to the "Subscribe" box on the right hand side of this blog and entering your email address.