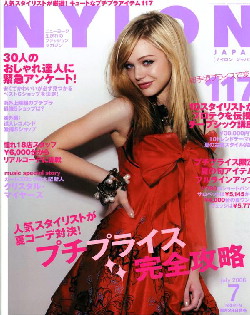 If you've caught any of the promos for NBC's 2008 fall line up, then you've also caught Krystal Meyer's hot single, "Make Some Noise," the title cut from Meyers' new project, which releases September 16.

"Make Some Noise" is the theme song for NBC's fall line up, and if you haven't heard it yet, you'll be hearing it soon. Again and again and again.
That's a good thing. While Krystal Meyers is pretty well known in Christian music circles here, in Japan she's a major pop star. It would be great for her music to be that recognized on this side of the world as well, where we could use some fashionable Christian role models for young girls.
Plus, it's a super catchy song and a perfect choice to promote some great shows (ooo, I am SO excited for new episodes of "Chuck," "The Office," and "Heroes!" But I digress …)
Visit this link to check out the promo.
To learn more about
Krystal Meyers, visit her website.
You can catch her on
the Revolve Tour
starting this fall.