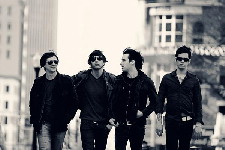 House of Heroes is set to release their latest project The End Is Not The End on September 23 (although the site says the 22nd, and that you can get the album at shows beginning September 18).
But that doesn't matter, because you can get three songs from the album for free, right now.
Just visit http://www.freehoh.com. You'll need to invite five friends to share the download, and viola! Three free songs.
And giving the album a quick preview, this is definitely music you don't want to wait for.

The band has gone from a three piece band to a four piece band, bringing back bassist A.J Babcock and moving Jared Rigsby to guitar, where he'd rather be. The result is a full power pop sound with rich vocal harmonies.
The band explains that they didn't use any pitch-tuning or digital manipulation in the recording process. Each song on the album is heard exactly as it was performed in the studio.
"We spent a lot more time getting the tones we wanted and playing the parts perfectly," explains vocalist Tim Skipper. "And to give the record more of a live and human feel, we sang all of the background vocals standing together around one mic. Like Queen used to do. It's the best part of the record for me, hearing these huge, thick vocal harmonies."
House of Heroes has opened up for the likes of Silverchair, Relient K, MxPx, and music legend Stryper, as well as full-blown tours with acts including Spoken, The Evan Anthem, Last Tuesday, Dropping Daylight, Love Arcade, and Kids In The Way.
The band heads out this fall for a 25-city tour with Relient K. For more information, visit House of Heroes' website.