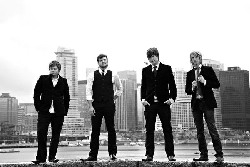 Fans across the ocean are getting to enjoy one of my favorite bands this month, as Starfield takes part in a bunch of festivals in Europe and the UK.
In June, the band played in the Netherlands at the EO Youth Day, and recently performed in Sweden at the Frizon Festival and headlined a show in Biel, Switzerland.

Between performances at the UK's Soul Survivor on August 13 and 18, the band will entertain audiences at Flevo in the Netherlands on August 14, Revo Fest in Germany on August 15 and Fuel Festival in Belfast, Ireland August 16. Before returning to North America, Starfield plays main stage at the Greenbelt Festival on August 22. In addition, the band is already confirmed to headline Scotland's Frenzy Festival in June 2009.
This September, Starfield will visit 12 Canadian cities alongside Will Graham and the Billy Graham Evangelistic Association.
Returning to the States this fall, the band will be joined by Above the Golden State for a 35-city tour in October and November. The tour kicks off in Sacramento, CA, works its way to New York City, and then comes back across the country to finish in Seattle.
I find it hard to believe, but I'm sure many of you haven't even heard of Starfield. To check out their music and to see what you're missing, and for a complete list of fall tour dates,
head over to Starfield's website.