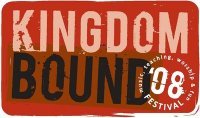 Yesterday was the final day of Kingdom Bound music festival. The schedule included Delirious and the newsboys, but I only had one interview scheduled with Hawk Nelson. The original plan was to do a "Day at KB with Hawk Nelson" but the plans kind of got waylaid … well, you can read about that story later.

My daughter Cassie came with me, and we caught a little music from
The Dig Project,
Fireflight and Ilia. I'll have to tell you
a funny story about me and Fireflight …
And we did get to see
Delirious,
which was special since they're disbanding so the members spend more time with family and pursue other ministries God has given them, like
Martin Smith's Compassionart.
We ended the night with the Hawk Nelson show. By the time it was over and we'd said out goodbyes, the newsboys were almost over (to get from one stage to the next is about a 15 minute walk) so we just headed back to Rochester.
Music writer and photographer Rick Campbell has some great pics from the shows, so watch for those in a day or so, along with a couple of posts about the bands I interviewed.
RELATED POSTS

Kingdom Bound music festival day one
Kingdom Bound music festival day two
Flyleaf – oops, I mean Fireflight – at Kingdom Bound
A Day at Kingdom Bound with Hawk Nelson