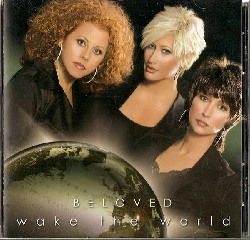 The new album Wake The World from CCM artist Beloved released yesterday. Their promo line is "Real Music For Real Women."
Forget about the album. I'm more intrigued by the tag line.
Real women? Check out their promo picture. Those are real women? Uh … no, those are models or Botoxed soccer moms. Even their "fun" promo shot, with cold cream smeared on their faces, hair in curlers or up in a towel, is so completely contrived that I laughed out loud.
You want to show us "real women?" Show me a middle aged woman with her hair in a ponytail, wearing the same clothes she slept in because she hasn't had time to change into clean a sweat suit. Show me a business woman with baby spit on her shoulder and a Dora the Explorer sticker on her briefcase. Show me a woman who needs to lose 50 pounds trying to be fashionable in a society where most fashion is geared towards anorexic sizes and clothing in sizes for real women all has horizontal stripes or big flowers.
It might be real music for real women, but it's not real music from real women.
Or is it?

One of the women is a grandmother (and a former Miss Georgia). Another is a new mom. The last is single. And if you go to their website, you can see pics of them as kids, geeky school photos most of us hide or burn. OK, now THAT I can relate to!
In fact, their publicist informed me (after I'd already posted this, so I'm going back to add this) that that CD cover is supposed to be a joke, that it's a tongue in cheek, over the top attempt to not take themselves too seriously. He said their loyal fans will get the joke … but honestly, it's lost on the rest of us. Or on me, at least. Like they say, if you have to explain the joke …
So back to the music. Now we're on the same page. The album is quite good, so even though the promo pics of the singers are clearly not "real women," the music will definitely reach real women, right where they are.
The lead vocalist has a great voice, at times reminiscent of Sarah McLaughlin or other edgy female vocalists. The lyrics are encouraging and inspiring, and really do speak to the things women deal with – self image, loneliness, daily life, faith.
The trio is known for annual retreat in Georgia, where women from all over the country converge to laugh, be inspired and leave encouraged.
If you like CCM style music but want something just outside of the normal Christian fare, check out Beloved's new album, Wake The World. You can learn more about the group by visiting the group's website or their MySpace page.