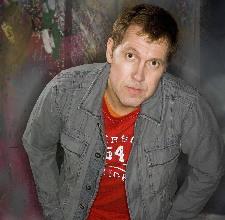 Over on Idol Chatter this week, blogger Kris Rasmussen shared a list of songs she and her friends hate to admit that they love. They range from the Chris Rice's "Cartoon Song" (which he's admitted he hates to sing) to Carmen's "Who's in the House." (Do you even need to name a specific Carmen song to be embarrassed?)

The irony is that before I even read this post, my friend, author Phil Tomasso (who writes currently under the pen name Thomas Phillips) were having a discussion about Christian music that inspires – in particular, music that inspires creativity.
Phil's new book
The Molech Prophecy
came out in July, and at our writers' group meeting Tuesday night he was telling me that he listened to music the entire time he was writing. I found that fascinating, since the book is a suspense tale. I don't know how he was able to keep the details and clues of the story straight and listen to music at the same time.
(The book, by the way, is the tale of a new Christian with a sordid past who, at the request of his pastor, helps track down a missing church secretary. Throw in a Wiccan church, an ancient prophecy, and a some underlying romantic tension and you've got a great beach read.)
I, on the other hand, need complete silence to be creative. In fact, as I write this, the only sound I hear is the birds chirping. The dog is snoozing at my feet and the cat is breathing silently on my desk. I only have music on while I'm writing if I'm reviewing a CD, and even then I've already listened to the album in its entirety (usually in my car) and am just scanning tracks to remind myself which songs I liked.
Which brings me back to songs that inspire. On his blog today,
Phil writes about how music
plays a part in his creative process.

So my question to you is this: What songs inspires you and how?
Do you use Christian music to spur on creativity, or pump you up for a sports activity? Do you have a favorite song that you just have to sing on Sunday morning or church just isn't the same? Is there a song that challenges you spiritually, makes you cry, makes you want to run to the altar and throw yourself at the foot of the cross?
Can't wait to hear your thoughts!