Ask most little girls what they want to be when they grow up and you'll hear "princess" or "mermaid" from many. For Nadya Vessey, her dream was just to walk. As a child, the now 50 year old Nadya, had a rare condition that kept her legs from developing and she was forced to have them amputated. She's learned to live life with prosthetics and she gets around quite well. She is often approached by curious people and she's happy to explain her condition but on one instance, a curious 4 year old approached her while she was re-attaching her prosthetic legs. He asked her why she didn't have any legs. Nadya, being sensitive to the fears of a child, decided to forgo her usual explanation and tell the little boy that she had no legs because she was a mermaid. The young boy's face lit up as he scurried off to tell everyone with him that he had just met a real life mermaid.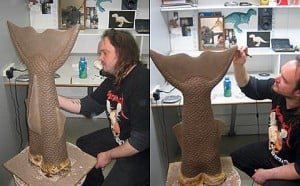 That's when Nadya got an idea.Why not? Surely someone could fashion her a tail. Enter Academy Award winning director Peter Jackson, more specifically Weta Workshop, his special FX factory.Using the same technology they used for Lord of the Rings and The Chronicles of Narnia, Weta was able to make Nadya a perfect mermaid tail.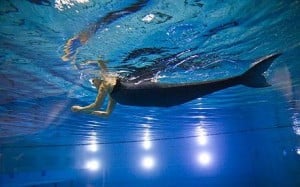 In almost no time she was able wisp around the water. She's been so inspired by her newfound freedom in the water that she's even considering entering a triathlon. It's been a dream of hers for a long time, but until now, there was no way for her to swim. It's like the story of The Little Mermaid only in order to become a bigger part of our world, Nadya had to become a mermaid.
PLEASE hit the "Like" button above to share the Good News and add http://blog.beliefnet.com/goodnews to your favorites. New stories every day!
You may also enjoy these related Beliefnet features:
Meet the most inspiring people of 2010
THE most inspirational pictures from the last year
INCREDIBLE athletes who have overcome disabilities
WATCH NADYA'S STORY ON VIDEO