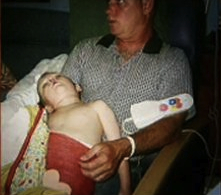 It started like any other day for Kevin Burgess. He pulled into his driveway and felt a haunting thump. It was his two young children, Tanner and Thomas. Thomas, the younger of the two was trapped beneath the tires of the 8,000 pound truck. Kevin's wife Tiffany watched in absolute horror from the porch and frantically ran toward the scene. Tanner was fine, a couple scratches but 2 year old Thomas was covered in blood and in bad shape. They rushed him to the hospital but doctors delivered the bad news that his injuries were so severe that they could not treat him there and he'd have to be sent to a special children's hospital. His tiny pelvis had been crushed, broken in four places and his chance of survival was slim.
It was every parent's nightmare, a freak accident with what seemed like a worst case scenario playing out. It was at that point that Kevin cried out to God. He felt it was his fault and losing his son or seeing him disabled for the rest of his life was a weight heavier than Kevin could bare. The doctors at the children's hospital said Thomas would need to be in a half body cast for 8 weeks. Tiffany and Kevin hit their knees and prayed without ceasing.

It worked. Miraculously, within 5 weeks, Thomas had healed well enough to remove the cast. Within a couple months of being on the edge of death, young Thomas was back to full speed with no long term complications expected. His doctor referred to it as a modern day miracle.In the words of 4 year old Tanner, "God can heal anything." It's a fantastic reminder to us all that no matter how dark and grim the situation may seem at the time, there is always hope!
PLEASE hit the "Like" button above to share the Good News and add http://blog.beliefnet.com/goodnews to your favorites. New stories every day!

You might also be interested in these related Beliefnet stories:
How to teach children responsibility
Christian Devotionals for Mothers
QUIZ: Parents, what is your discipline style?
WATCH THOMAS'S MIRACULOUS STORY ON VIDEO
[bcvideo vid="947677762001″ pid="96582452001″ height="410″ width="480″]