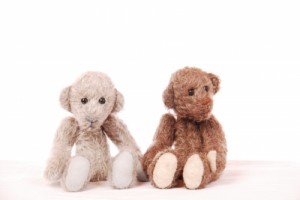 Is there a Teddy Bear in your closet? On a shelf in your living room? Or, (horrible thought) in a box in storage?
You know what? It's time. Maybe past time. It's all right to let that Teddy Bear out!
If you're the kind of adult who thinks he or she has to face illness and pain as a stoic adult, with no hint of "juvenile" behavior, well, I understand. You're not alone. But, you're also missing out! Because part of the pleasure of being a self-confident adult is to acknowledge that sometimes you need to be comforted by going back, back to the time when comfort was as easy as having a good cry or a good talk with your trusted Teddy Bear.
I could have sworn I saw the six Bears watching me type this nod in unison. They agree with me; it's no good to keep them unengaged in life now when they were so important to live not so long ago, in childhood!
Oh, yes, we have friends who are wonderful support and in whom we confide. We pray to God, and we summon His grace and encouragement when we're most down.
But there's something special about a Teddy Bear…You'll see, if you haven't already. Bring yours out for a visit. I expect you and your Bear have much catching up to do!
Joy,
Maureen