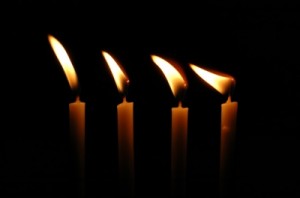 Christmas is near! And no doubt your calendar is full of more things than you know you will be able to accomplish between now and the 24th. All the more reason why breaking away and taking time for prayer is important.
The clutter in our lives can stifle prayer, and, besides our calendars, our homes, cars, and even perhaps our workspaces are cluttered with "To-dos" and "Must-dos".
This week, think of helping yourself in prayer by clearing however small a space for peaceful, focused time with God. Move papers so that there is a spot of clear desk that you can look upon as you pray at work. Move boxes and bags from a corner at home and sit, quietly, in the newly-simplified space.
Pray with simplicity – and with a direct spirit. God will hear you clearly, as He always does, and He will cleanse your heart so that you are prepared, inside and out, for the celebration of Christmas!
Joy and peace,
Maureen