El Shaddai is an upcoming PS3/360 game based entirely upon the Amy Grant hit "El Shaddai." Apparently it is a really sweet rhythm game where you play along to different versions of the song on plastic video game guitars, drums, pianos, and ukuleles (the ukulele is huge right now y'all).
Alright, alright, that isn't really the game. In fact, the game looks pretty dang awesome. As much as I can tell from the demo and the footage I've seen, the plot is based upon the apocryphal book of Enoch. Apocryphal meaning, book that is sort of in the Bible but sort of isn't and is really just weird. If the game is any indication, what happens in that mysterious book (I haven't read it) is that an angel wears really tight jeans, fights demons with crazy weapons, and does some 2-D platforming. Did I mention that his clothes fall off when he gets hurt?
If that stuff were really in the Bible, witnessing would be a whole lot easier.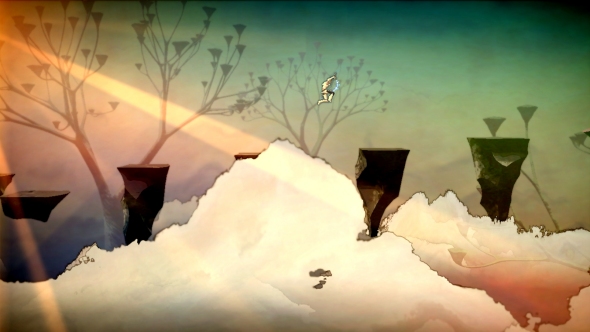 For real though, the game actually looks really, really neat. It has style in spades, and a combat system that seems engaging enough. Where it shines though is in the art. Man, that art. In the brief demo the combat seemed fairly engage as well. There is a mechanic where you steal the weapons from your enemies and "cleanse" them. Over time, they become "evil" again and you have to cleanse them. It gives the combat an extra bit of intrigue and strategy. But really, this game is all about exploring a fantastic world with some kind of crazy Biblical plot.
Check it out next week, it drops on August 16th! 'Til then, here's another screen!