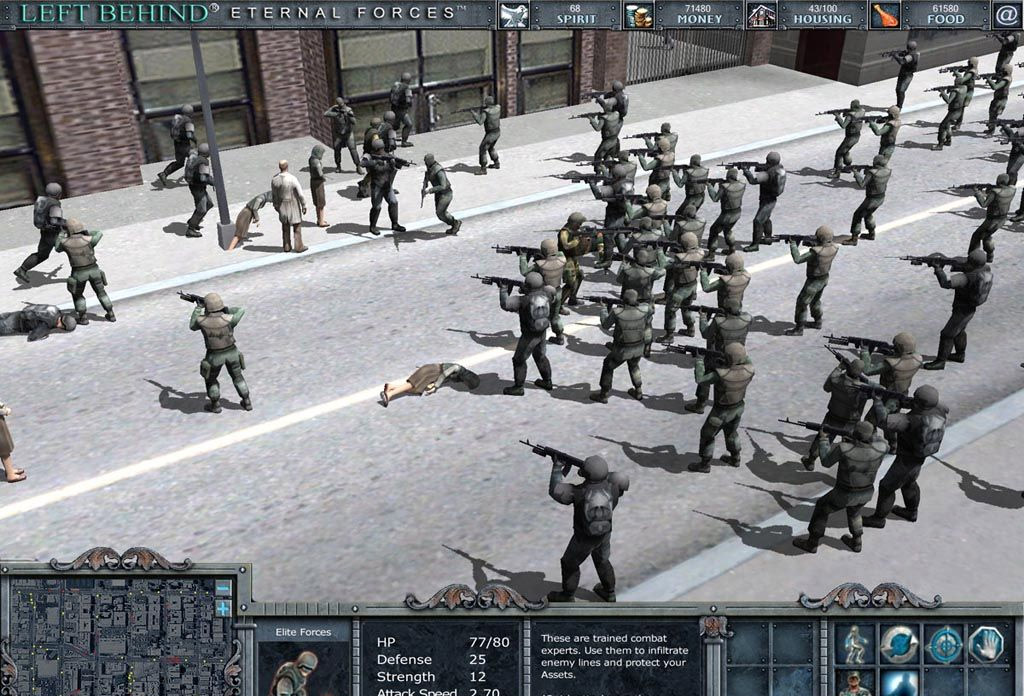 So there is this thing called the Christian Game Developer's Conference that exists in Oregon and, when I first heard about it, I rolled my eyes and pictured keynote speeches about how to create games where the main character gets to level up for correctly saying the sinner's prayer. At the very least it would probably involve discussions on how to sell more games like the above-pictured Left Behind: Eternal Forces, a real-time strategy game where one converts the heathens to fight on your side or, barring the failure of evangelization, blows 'em all away instead (to be fair, you're 'penalized' for this). Gaming blog Kotaku has a well-written article about this year's conference, which is their 10th, and after reading it I have hope again for the Christian video game.
The first encouraging note is that attendees place the 'Christian' emphasis on 'Game Developers' and not 'Game,' a subtle but important distinction.
They're building iPhone and iPad games that don't quote so much as "Jesus wept," or even mention Him at all. They work at BioWare, on Star Wars: The Old Republic. They go to the standard GDC in San Francisco.
As a Christian artist myself, that's a sentiment I can get behind. Too often Christian art – literature, music, film, and games – thinks that its reason for existence should be to proselytize and not to enlighten, challenge, or inspire. Case in point, there are Christian filmmakers who insist that if your movie isn't trying to actively win people to Christ (by including a straight-from-scripture presentation of the gospel and showing characters who convert) then it's not really a Christian film.
"I really get annoyed when I see preachy games," said Kelly Lawer, 20, of Portland, attending the conference as a gaming enthusiast and an aspiring professional. The mainstream's aversion to an overtly religious game "isn't an issue because of hostility toward my religion," she said. "It's an issue because it's boring."

Lawer decried "Bible-tract gaming" that stereotyped characters (especially atheist antagonists) and all but hand-held players through what few moral choices they really presented.
If there are Christian game developers who feel this way and if they have a yearly conference where they can get together, encourage one another, and spur one another on to create meaningful games (that just might be 'Christian') then there's hope yet for the Christian video game.
Definitely check out the full article if you have the time.