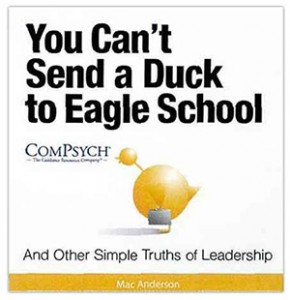 The following is an excerpt from "You Can't Send a Duck to Eagle School, and Other Simple Truths of Leadership," by Mac Anderson
I've lived in Chicago for the past 30 years, and as you might expect, I'm a huge Chicago Bears fan. Over the past few years, I watched one man emerge as the leader of the team. His name … Brian Urlacher. No question, Urlacher is a very talented football player. He's made the Pro Bowl for the last 6 years as a middle linebacker. But, if you're a football fan, you know there are a lot of very talented football players who never become the unquestioned leader of their team.
Why is that? Obviously, there are many reasons a leader can emerge from the pack; but in Urlacher's case, it is his humility and his passion for the game.
I must say, for a superstar athlete, his humility is beyond refreshing. He never talks about himself, his achievements, his statistics; but, he is always the first to praise and defend his teammates and his coaches. When asked how he wanted to be remembered, he said,
Then he was asked about his success in the NFL. He said, "I think I've adjusted pretty well, thanks to good coaches and great teammates. I won't say that I'm lucky, but just fortunate, I guess … I'm very blessed."
So many times, the difference in a good leader vs. a great leader is one word … Humility. A great leader is never afraid to poke fun at himself, and is always first to give all the due credit to others.
If you'd like more great leadership advice, purchase "You Can't Send a Duck to Eagle School and Other Simple Truths of Leadership" at the Inspired Faith Gift Store from Beliefnet.
Reprinted by permission of Simple Truths (c) 2011. In order to protect the rights of the copyright holder, no portion of this publication may be reproduced without prior written consent. All rights reserved.