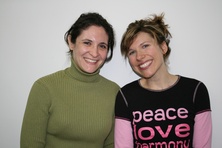 This is the post in which we say goodbye.
We're both leaving our respective jobs at Beliefnet, and so it's time to step away from the blog.
So, this is the post in which we say goodbye…by saying thank you. Thank you to you, the readers, for clicking and visiting and sharing the myriad ways in which you're making your lives happier, healthier, and more whole. Thank you to Beliefnet for giving us a platform on which to think through how we could do the same.
And finally, thanks to each other, because collaborating on this blog has included much learning and laughing, and it's turned a collegial relationship into a bona fide friendship.
Each of us has compiled a list of our 5 favorite posts that were written by the other during Fresh Living's nearly 2-year run. Consider it a grateful version of "Fresh Living 101." And again….thank you!
The 5 Posts by Valerie I'm Most Grateful for
By Holly
On Staying Positive in 'Tough Times'
I love the casual quotes around 'tough times' in this post, which contains 3 easy, do-it-now ways to keep your attitude high when everyone around you is lamenting the tough this, the difficult that. It's like a quick rescue from Glumsville.
This post turned out to be one of Fresh Living's most popular, and I think that's because it's just plain fun. What could be more smile-inducing on a rainy day than to contemplate what The Beatles and Milli Vanilli have in common?
I always learn something from Valerie. I consider her to be my window to the holistic world, a world she fully inhabits and explores while I peek shyly around from just inside the border. In this post, she shared some really cool (no pun intended) cold remedies. And I learned a new word (acidophilus)!
Awakening 9/11 Anniversary Fatigue
"There are other kinds of remembering," Valerie wrote in this powerhouse essay about finding memorial beauty outside of the over-wrought 9/11 anniversary news reporting. It's a beautiful bookmark I plan to re-read every 9/11, and even on some other, more personal anniversaries as well.
Fresh Morning: Love After Love
In the spirit of sharing, Valerie and I took turns offering a thought, idea, or inspiration to help you (and us) start your (our) day. This is one of my favorites from her, a Derek Walcott poem that urges us to "love again the stranger that was yourself." Not a bad way to sum up Fresh Living, actually. Thanks, Valerie.
The 5 Posts by Holly I'm Most Grateful for
By Valerie
Ditto all Holly said about this being such a nourishing, fun,
laughter-filled experiment in co-blogging. Finding my Holly faves was
tough because Miss H. has written so much good stuff–about sifting
through the sworly emotional life, her gorgeous garden, healing from a
truly holistic perspective, honoring the people she loves, and, of
course, food, glorious food. So many days I could almost taste the
muffins she was baking, in her full Taurean honoring of all life's good
stuff–health, abundance, and butter. Yum.
I love Holly's mini food guides. This one made me especially happy, just thinking about all my new leafy friends. And I mean, this? Pure food wisdom: "I know what you're thinking: 'The lettuce isn't my caloric problem, it's the gloppy, creamy dressing I smother my salads with that's my downfall.' My response to that is, get better lettuce!" Amen!
The Biggest Loser: Why is 'Yay Me!' So Hard?
This was a follow-up to a post about her fellow aquacizer's proclamation: "I'm so proud of myself!"–a phrase we rarely hear from anyone, ever. So poignant. And then Holly flipped it into a question that related to "Biggest Loser" (which I now love vicariously), that I've never gotten out of my head: "What would you say "Yay me!" about?"
Thanksgiving Crafts: Fabric Leaf Place Cards!
Since her life is so much more adult-looking (from the pictures, at least) than mine, I love when we get to see Holly's home. And this post felt so personal and sweet and helpful. I love these leafy place settings. Go crafts! This year I'm totally making these in hot pink.
I well up each time I read this post about the passing of Holly's uncle Craig. It's the star that gets me. Someone willing to put a silver star sticker on his forehead for a laugh? And a niece who appreciates that? I look at the photo in this and I miss a warm, funny man I've never met. Thanks, Holly.
In Memory of My Fascinating Grandmother
Gaga. Not Lady, but Holly's grandma. A smarty knock-out with a sense of humor as big as her boldness. I love how Holly remembers her red lipstick, the books she wrote, the bits they played together, and this: "How many kids can truthfully say this sentence: 'I learned the story of Jesus from my Jewish grandmother'?"
Thanks, thanks, thanks all around! And if you'd like to follow us on our personal blog journeys, you can find Valerie here: www.valeriereiss.com/blog and Holly here: http://soilsparks.typepad.com/.