Those marketing rascals at Lululemon (cited in last weekend's New York Times as being part of the rampant commercialization of yoga with their $100 yoga pants) have done it again. This time the athletic apparel company is not claiming their clothes are made of healing seaweed or making weird cracks about child labor, but their latest ad, launched in June's Yoga Journal, is this: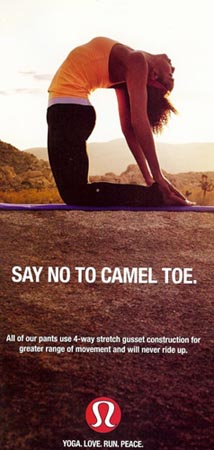 I saw this on the Yoga Dork blog and was actually a bit surprised at the uproar–some people are finding it extremely offensive. In my humble opinion as someone who's been practicing yoga for 17 years, I think it's cheeky (heh), controversial, and funny-because-it's-true (It's also funny because the model is in Ustrasana, Camel Pose. Hee. Gotta love insider yoga humor.)
But more importantly, from the Fresh Living perspective, "camel toe," as the female frontal wedgie is called, is a genuine issue with yoga clothes. Though some prefer to practice in baggy old sweats (as I do plenty of days in the month), lots of women like to wear something a bit more form-fitting. I like looking cute, sure, but snug clothes also allow teachers to check out my anatomy–hyper-extended knees, misaligned lunges–and adjust me more specifically and accurately. It's also a bummer to be tripping over your clothing in a fast-paced vinyasa class. Hence the tight pants, hence the "danger" of the camel toe.
Truly, I don't care all that much about showing off the tulips, but when pants are that tight you're more prone to yeast and urinary tract infections. It's essential to have some air circulation and to stay as dry as possible–made tricker when your pants are super tight. So, go with your cheeky inadvertently health-conscious self, Lululemon. This doesn't mean you can or should drop $100 on yoga pants, but rather:
– Look for the kind with a "gusset" (not a straight seam) that doesn't wedge up in there causing discomfort and irritation that could lead to pain and trouble.
– Make sure you've got a breathable fabric that "wicks," especially if you're going to be sweating.
– For non-sweaty yoga, a breathable cotton pair is fine.
– Wear your size — going too small is not hot, helpful, or healthy.
Do all that, and the only toes you'll have to worry about are the ones to reach for on the floor.
Here's some more info on preventing vaginal infections, which includes the breathable, loose-fitting clothing guidelines. Plus, an About.com roundup of favorite yoga pants.
So, dear reader, what do you think? Offensive? And what do you practice in?
Like what you see? Click here to subscribe and get Fresh Living in your in-box every day.