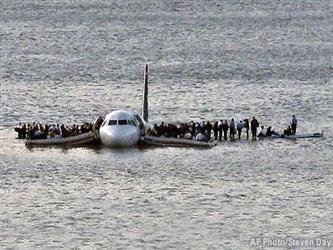 It still feels like a miracle.
One year after Captain Sullenberger famously brought Flight 1549 to an emergency water landing on the Hudson River, the fact that every single passenger, crew member, and first responder lived to tell the tale is still almost too fantastic to believe.
Especially today, I think, as we're all still struggling to understand the devastation in Haiti, it's poignant and beautiful to conceive of an averted disaster, a horror that wasn't.
Our colleagues put together a wonderful gallery of quotes and remembrances from those who were there one year ago today. Go have a visit for some much-needed inspiration after a tough week.
As one passenger put it, "Every day is a miracle. Some days they're just bigger than normal."
Click here to visit the gallery: Lessons from the Miracle on the Hudson
Like what you see? Click here to subscribe and get Fresh Living in your in-box every day!