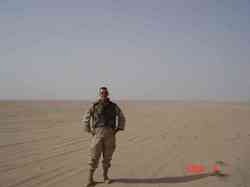 It is profoundly appropriate that Veteran's Day falls just before Thanksgiving, because those of us who have veterans in our lives, in our families, at our dinner tables, are overcome with gratitude today.
My husband Rob is a veteran of the Iraq War – he spent 14 months building roads and barracks in the Kuwaiti desert in 2003 into 2004. In the picture on the left, blurred by wind and a sand-scratched lens, he's just another soldier, standing in the empty desert ready to do his job. Which he did, and then he returned home. He came home, I want to shout from the rooftops on Veteran's Day. Thank God. He served, then returned. May they all.
The gratitude of course mixes in with so many other emotions – pride, respect, honor, and memory chief among them. To honor our veterans, my Beliefnet colleague compiled a stunning gallery of Veteran's Day quotes that capture this full gamut. My favorite is this quote from Michel de Montaigne:
"Valor is stability, not of legs and arms, but of courage and the soul."
For all our stable, courageous veterans, and for those who still serve, I say a thousand times and a thousand more – thank you.
Click here for more Veteran's Day quotes.
Like what you see? Click here to subscribe and get Fresh Living in your in-box every day!