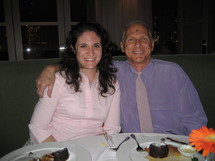 Two years ago today, my Uncle Craig died of lymphoma. For his 60th birthday just 3 month before his death, we gathered at a favorite fancy restaurant, where for celebrations the staff scatters little silver stars across the table. He playfully stuck one onto his forehead, making us all giggle. I later learned that he took a few home, shiny souvenirs in his blazer pocket. It was a special night. He was a special man. He's gone. I miss him.
Not to put too fine a point on the concept, but there's a second loss-related milestone that I am observing today. And that is a 15-pound weight loss that began out of the stress of that time and that I've (pretty much) sustained over these two years.
So it's the anniversary of loss – the loss of my uncle, who I'm heartbroken will never come back, and also the loss of that weight, which I work daily to remain without. One feeling with two faces.
The juxtaposition is sharp in my mind today. I could not control the cancer that cruelly took my uncle's life, but I could control my eating and fitness choices to get my body into a place of balance and health. But even that sense of control is an illusion, life teaches me over and over again. And the truth is, we can't really control loss in any form–we can only check in with it periodically, marking its anniversaries as time moves forward.
How do you mark the anniversary of losses in your life? For my part, I might just hunt for some silver stars, and see if they'll stick.

Like what you see? Click here to subscribe and get Fresh Living in your in-box every day!