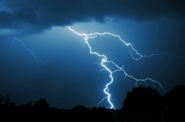 Today I write this post from my desk, in my home of 9 years. On Monday, I will write from my desk, in my home of 48 hours. Despite all of my attempts to stay sane through my move, there's something about that fact that just doesn't compute in my brain. Why? Because change is hard, and radical change–like changing where you sleep and live and eat and work–is really hard.
I've been battling back stress and anxiety around this move for weeks, sometimes more successfully than others. My plan to eat only simple, clean foods went out the window (Last night's dinner: 3 slices of "double dough" pizza. This morning's breakfast: a chocolate croissant. Oops!). My plan to listen to my favorite Thich Nhat Hanh meditation twice a day happened maybe twice in 3 weeks.
But one thing that's been keeping me afloat (besides late-night reruns of The Golden Girls) is the cognitive strategy of unraveling toxic thoughts. You see, to bat back a toxic thought means you have to acknowledge its presence in the first place. It's basically saying to yourself, "This is really hard. There are good, exciting things about it, but it's ok that I am also stressed and worried about it. I might not even be able to think straight during this time of transition–and that's ok too. You know why? Because soon it will be over."
The phrase I've been using to describe this process is, "ride the lightning." It works, right? Lightning is scary, strong, dangerous, and beautiful all at once. In real life, our choices when faced with lightning are to get caught outside and run for our lives, or get ourselves somewhere safe and take in the power and beauty of it all.
In metaphorical real life, though, sometimes lightning finds us no matter what kind of safe place we're in. Flashes of change will always flare up in life–just like in nature, static builds up and needs to be released. Our choices at that point are to panic that we'll be blown to bits by the blast, or relax and breathe through the ride, scary and exciting as it may be.
I am trying so very hard to choose the latter. Because you know another thing about lightning? Before you know it, it's over. As will be the hardest part of any life transition.
By the way, I am very aware that "Ride the Lightning" is the name of a 1984 song by the heavy metal group Metallica. That song was about a man about to die in the electric chair. Sometimes change can feel like that too, but that isn't exactly my point….
How do you cope with change?
(image via: http://www.how-things-work-science-projects.com/electricity-science-projects.html)