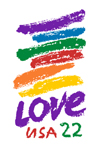 In case you missed the news, today postage goes up from .42 to .44 cents, which means all those sunflower stamps in my drawer demand a .2 addition.
Since I'm still a fan of old-fashioned letter writing, I'm a bit of a stamp snob (I like the decorative varieties – no flags for me, thank you). So I was also happy to learn from a recent Los Angeles Times article that a Los Angeles Catholic nun named Sister Corita Kent designed one of the best-selling stamps of all time. Kent's Love stamp came out in 1985, a year before she died, and almost 20 years after her heyday as an anti-war art activist in the 1960s. It has sold over 700 million copies.
Kent's bold neon silk-screens that incorporate ad slogans, lines from pop songs and clever collage-like graphics were an integral part of the West coast Pop Art scene and like many artists she traveled in a creative circle that included Los Angeles luminaries like Alfred Hitchcock, Charles and Ray Eames, Buckminster Fuller and John Cage.
It was the era of Vietnam and Sister Corita, became a legendary art teacher, renowned for the art she created during anti-war movement yet her messages and methods were not kindly accepted by Los Angeles' cardinals and bishops. The conflict did, however, gain her notoriety, landing her a Newsweek cover in 1967. Creativity became her most trusted mode of expression as she was once quoted saying, "I am not brave enough to not pay my income tax and risk going to jail. But I can say rather freely what I want to say with my art."
Finding comfort and a voice with creative freedom and expression is the basis of a book about Sister Corita's teachings called Learning by Heart: Teachings to Free the Creative Spirit, which has just been reissued and was written with a former student named Jan Steward. Of Corita's teaching, Steward told the Los Angeles times, "She never wanted you to assume anything. She wanted you to open yourself up to possibilities." Words to live by, in any era. Don't you think?