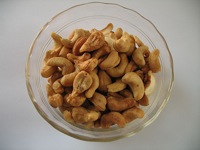 Since it's national "Eat What you Want" Day, I'm going to have to agree with my fellow blogger Valerie, who believes "everyday should be eat what you want day." Why not let the wisdom of your body (and your mind) guide you as you make meal choices at least three times a day?
As for what I want to eat on this day — more of the cashew cheese I made this weekend. I'd heard about these creamy vegan dairy alternatives but never dared make my own, until yesterday. Well actually, I started on Friday because vegan cheese takes a couple days — with the soaking of the nuts, the blending of the ingredients, the shaping, the draining of the cheese, the chilling and finally, the indulging.
I used a recipe from the April issue of Vegetarian Times, and in spite of the many steps involved, it's quite an easy task. More gratifying is the result: an elegant, piquant chevre-like log that spreads perfectly on a baguette and even better accompanied with a chilled glass of white wine. If you don't want to make your own, Dr. Cow carries a wide range of yummy looking nut cheeses. Otherwise, here's the recipe I used.
Pepper-Crusted Cashew Goat Cheese
Makes 10 oz log
3/4 cup raw cashews
6 Tbs canola oil
1/4 cup lemon juice
1 Tbs. tahini
1 1/4 tsp. salt
parchment paper
cheese cloth
1 tsp. cracked black peppercorns or coarsely ground black pepper
1. Place cashews in large bowl; cover with 3 inches water. Soak overnight.
2. Drain liquid, rinse cashews under cold water and drain again. Puree cashews, oil, lemon juice, tahini, salt, and 2 Tbs. water in food processor 6 minutes, or until smooth and creamy.
3. Place large strainer over bowl, and line with triple layer of cheesecloth. Spoon cashew mixture into cheesecloth. Fold sides of cloth over cheese, and form into 6-inch-long oval loaf. Twist ends of cloth and secure with rubber bands. Set in strainer over bowl, and let stand 12 hours at room temperature. Discard excess liquid. Chill.
4. Preheat over to 200 degrees F. Line baking sheet with parchment paper. Unwrap cheese, and scrape into 7-inch-long log on cheesecloth. Rewrap, and twist ends to secure. Place on prepared baking sheet. Bake 35 minutes, or until cheese becomes set on outside but still soft, turning occasionally. Cool, and chill.
5. Unwrap cheese. Sprinkle with peppercorns, pressing to adhere.
Any vegan cheese makers who want to share tips, treats or recipes?
[image via: wikimedia commons]