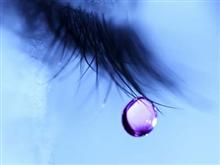 As people close to me know, I am a cryer. I cry when I'm sad, happy, angry, overwhelmed. It's like my release valve. The pressure of existing as a pretty emotional being has to escape somehow, somewhere.
Everyone has their thing–boxing, drawing, screaming into a pillow are some healthy ones. Yelling, throwing, and hitting are also popular, but less recommended options. I'm ok with the crying thing, for the most part.
Sometimes in work situations when I can feel the rains coming I think of baby elephants or if that doesn't stem the tide, I drive a fingernail into my hand. Because work + crying = bad, in my experience. It's in romance that it really gets in my way. All it takes is one smooch, and somehow the duct channel opens. My lips connect straight to my heart (I seriously think there must actually be a tube of some sort that doesn't exist in most people) and a kiss is the key that opens the floods.
I have often wished I had printed cards like the ones some deaf-mutes give out on New York City subways: "I am a deaf mute. Please donate." I would hand mine over pre-kiss. It would say: "I cry easily when kissed. Not during, mind. But some time after when we have a conversation about whether we are dating or not. And when there is a separation of some sort. Please don't take it personally. You didn't do anything wrong. And you don't need to take care of me. Here are the emails of three former boyfriends who can vouch for my sanity and let you know that once we've been together a little while I will cry much less." Ok, I might need a sandwich board to fit all of that. But you get the idea. I think it would just preempt so much stuff.
Our Holly did a beautiful gallery with Beyond Blue blogger Therese Borchard about the healing benefits of tears–there are actual health benefits! Woo hoo! Check out the Healing Power of Tears article here.
How often do you cry? Do you feel like it gets in your way? Or maybe you feel like you actually need to cry more?