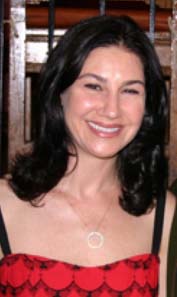 Our dear Holly won't be blogging for about a week, but we have the fabulously talented Stacie Stukin filling in as guest blogger. She is well versed in all ways holistic and yogic and we're excited she'll be stepping in for a bit. You can get to know her by checking out her inspiring Fresh Living survey, below. Welcome, Stacie!
(And send us your own! freshliving@beliefnetstaff.com)
Vital statistics (name, location, link to website/blog if you have one)?
Stacie Stukin, born and raised in Los Angeles, my blog: la-mandala.blogspot.com/
Do you have a general life philosophy that helps you balance your life and spirit? What is it?
Be Here Now is the philosophy I try to honor though I'm the first to admit it's easier said than done. But I've learned that getting overwhelmed by the past or the future is really not productive. I just try to enjoy the small stuff, stay out of the line of fire by being kind to myself so I can be kind to others. Ultimately my motto boils down to this: masochism is not becoming to a lady.
What kinds of activities do you do to stay in that balance?
Yoga, gardening, hiking with my dog Cheech and my husband Stephen, cooking and sharing meals, meditating and getting a good night's sleep.
What are some of your favorite "power foods" for health and vitality?
Homemade almond milk, fresh-squeezed tomato juice with a splash of apple cider vinegar and dash of cayenne pepper, organic dates. Chocolate please.
What's the one vice or habit you'd like to change to Live Fresher?
French Fries. I love the fried potato — sweet, russet, crispy hash browns — they're all good. And while I don't indulge often, the guilt, it kills me. Ah, maybe the vice is the guilt? Yes, loose the guilt; enjoy the fry.
What's the best piece of advice or wisdom you've ever gotten regarding living a balanced, juicy life? Who gave it to you?
My dear friend Scott Hobbs, who was my first Iyengar yoga teacher, often reminds me to just "Let it Go". It may not the most original or sexy piece of advice but believe me, it's easy to forget. This simple mantra has carried me through many challenging moments.
What's your favorite kind of tea?
Fresh verbena tea, definitely. I have a verbena plant in my garden and I steep the leaves, add milk and agave sweetener for a perfectly aromatic, calming elixir.
Do you get massages and/or other body work?
I love acupuncture. It works for me on so some many levels — it helps relieve back and neck pain, digestive problems, and stress. It's a beauty secret too. It takes the strain right out of my face and makes the whole world seem a little more soft and pretty. It's a humbling reminder that the meridian system is much more powerful than we think.
What's the kookiest thing you've ever done for your health?
I'm not sure if this fits in the kooky category but I've been known to dance around my living room while listening to very loud Bhangra music. I'm not sure I can scientifically prove the health benefits but it sure is fun. And isn't having fun healthy?
Do you buy products that have fewer potential toxins in them like parabens, sulfates, etc.? Faves to share?
I do. In fact, I'm so passionate about sunscreen that I partnered with my dermatologist friend Dr. Robin Schaffran and we developed a product we would use. It's called Dr. Robin for Kids and even though it's designed for children's sensitive skin, I use it every day. It's a water resistant, chemical-free SPF 30+ that has no parabens, phthalates, or fragrance. And my favorite deodorant ever is Real Purity. It actually works, it's mineral-based and I love the lavender sandalwood scent.
Which books, poems, or quotes most inspire you?
Anything by Joan Didion because I'm in awe of her spare, poignant prose and her impeccable reporting. Walt Whitman makes me smile and helps me soar in my mind and Rachel Carson's Silent Spring because she was so ahead of her time. M.F.K. Fisher for stoking a passion for food and for just being a beautiful writer.