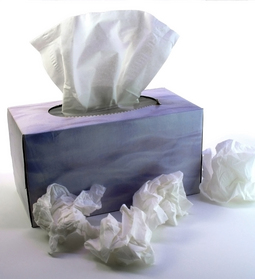 Alas, but this snowy day is beyond my ability to enjoy (oh, Valerie – snow ice cream!). Instead of dancing among the flakes, I am shuffling around the house and blowing through piles of tissues, sidelined by a completely soul-clogging headcold. Despite my voluminous healing tea-drinking, I wound up taking Valerie's advice over the weekend. Fighting doesn't always work: sometimes it's ok to just give in to the sick.
I don't do that easily (um, "give in?" but I'm a Taurus!). Any cold, flu, or bug that I get, I always end up spiraling into a whiny blame-a-thon where I feel like a failure for allowing germs to penetrate my oh-so-healthy lifestyle. It's not pretty, and I'm not proud of it.
So I decided that this time would be different. And, by some miracle, it was (I mean, is….sniffle, snorffle).
The timing helped, because the two days when I looked most like Amedeus-near-the-end happened to be over the weekend. Taking 48 full hours of rest–I'm talking no errands, no work, no phone calls, no exercise–was easier on days when I had no real obligations, appointments, meetings, etc. Here are some scenes from those two restful days, in case you need some feel-better ideas:
1. Jammies all day: 'nuff said.
2. British period drama marathon. Often I go for Jane Austen when I'm under the weather. But this time, it was the BBC version of Dickens' "Bleak House." All 15 episodes. (by the way, of Dickens isn't your thing, Beliefnet put together an awesome gallery of comforting "sick-day" movies, check it out!)
3. Public whining. I went onto Facebook and updated my status to say that I had a cold and was whining about it. I think more than anything else, that stopped the spiral in its tracks. Just saying out loud, "I feel lousy and I'm unhappy about it" made me feel better, less isolated, less "this will never end."
4. Constant flow of hot beverages. Tea and hot lemon water were runnin' deep around here. Just breathing in the steam helped, and each hot sip felt like it was slicing through the congestion just a little bit more. Added bonus: holding your thumb and index finger against the hot teacup for a moment and then gently pressing to a tissue-weary nose is tres soothing.
5. Lavender bath. Part of resting the body is resting the brain, and nothing is more inherently soothing than lavender. I took a hot soak in a tub into which I added a few drops of lavender essential oil, and then I rubbed on some of Dr. Hauschka's Lavender Body Oil. That stuff is like liquid rest.
6. Lip balm. I don't have the emu stuff (not yet), but I do have a Burt's Bee's tube stationed within arm's reach at all times. The peppermint in their formula has a refreshing, quasi-decongesting feeling to it. Another tip: take a Q-tip and rub some balm on the edges of your nostrils to keep them from chapping.
Please add your own self-care must-haves!