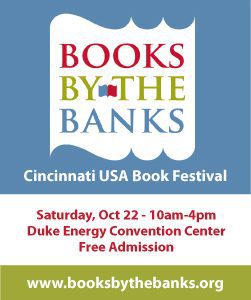 Hey Cincinnati! If you love to read, stop by the Books by the Banks celebration today from 10 to 4 in the Duke Energy Center downtown. (Which is not technically by the banks, but we'll work with it.)
Here's a list of the authors participating, including Dennis Lehane (Mystic River), folk singer Judy Collins (whose new memoir I plan to snatch up), and Robert Morgan (Gap Creek, Lions of the West).
There are panels on lots of issues related to books and reading — including a how-dark-is-too-dark one on dystopian YA fiction.
I think that the number of books I actually sell today will probably be outweighed by the number I buy from other people, but it's all about celebrating books.