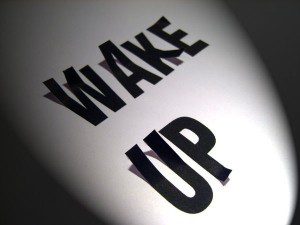 In doing the Twible recently I've come across a whole genre that I like to call the "Wake Up, God, and Get the Hell Out of Bed" Psalms. These are the Psalms for when God feels impossibly far away at best and nonexistent at worst. These are the Psalms for when we are suffering.
The African American writer W. E. B. Du Bois expressed this beautifully in a litany of grief a century ago:
Keep not Thou Silent, O God!
Sit not longer blind, Lord God, deaf to our prayer and dumb to
our dumb suffering. Surely Thou, too, art not white, O Lord, a
pale bloodless, heartless thing!**
"Dumb to our dumb suffering." That says it all, doesn't it? When God is silent, it's harder than ever to discern the reason for suffering that appears senseless. When God is "dumb," our pain is also dumb.
So get the hell out of bed, God.–JKR
P.S. I can buy you an iPod alarm clock if you need one.
#Twible Ps 89: G, why would you create me just so my foes can Slushie me? Will you hide yourself forever? I'm not getting any younger here.
#Twible Ps 90: Teach us to # our days. Also, make us glad for every single day you've punished us. We're learning a lot from it, really.
#Twible Ps 91: G's CV says he'll deliver, cover, protect, answer, rescue & extend life. With action verbs like that he should be CEO Deity!
#Twible Ps 92: It is good to give thanks to G. Good thing we're not like those eejits who can't appreciate anything. They are SUCH losers.
#Twible Ps 93: G is the king over all creation, in case you missed it. Not Elvis. Not Michael Jackson. Not even Budweiser, a close 2nd.
#Twible Ps 94: Yo, God of vengeance! You say that those you discipline will be happy. Please, make my enemies FANTASTICALLY happy. Today.
#Twible Ps 95: Kneel before Zod. I mean, God. Don't be stubborn like that time at Massah in the wilderness. That did NOT end well, people.
#Twible Ps 96: Sing, sing, sing! Tell all the good stuff that G's done. P.S. Ocean, sky, & fields: be sure to join in on the chorus, OK?
#Twible Ps 97: In case you imagined from the last few happy Psalms that G was a sweet-little-pushover-Grandma-styled god, think FIRE. Oh.
**W.E.B. Du Bois, "Litany at Atlanta," 1906, p. 425 of The Seventh Son: The Thought and Writings of W. E. B. DuBois, vol. I, ed. Julius Lester (New York: Random House, 1971)