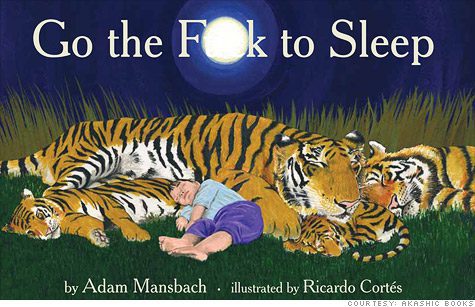 Last week I succumbed to the "lure of the free." I saw on Twitter that Audible.com was offering Kindle users a limited-time promotion, in which Samuel L. Jackson's 6-minute audio rendition of the new sensation "Go the F**k to Sleep" would be available free of charge. (It's now $4.99.) According to CNN, more than 160,000 people downloaded the audio within the first 48 hours. I was one of them, and here is what I learned:
The book is absolutely hysterical, but don't listen to it unless you have a strong stomach for profanity. (And have actually dealt with small children at some point in your life, so you understand why the book is funny.)
Samuel L. Jackson rocks.
It is easy as pie to download audio books to the Kindle, and they sound terrific.
It's the third point I want to talk about here. I have been a fan of audio books for many years, have reviewed dozens of them for Publishers Weekly, and have at least one in the car at all times. So I'm certainly Audible's target consumer, but I've never downloaded a single audio book from the site, preferring just to check them out of the library.

That changed last week, and I'm now a member of Audible, having purchased a monthly subscription and also downloaded the app for my iPhone. For the first three months the subscription is $7.49, which doubles to about fifteen bucks a month after the trial is over. I get one free audio book a month and a 30% discount on others.
What sold me was Audible's relationship with Amazon. Audible immediately recognized me as an Amazon customer, so once I signed in with my Amazon account it had all of my info all ready to go. Which is creepy, but also convenient. The audio books simply appear on my Kindle once I turn on its wireless function, just like an e-book would.
I'm loving it so far. I have the day off work today and am painting a bedroom this afternoon, so I downloaded a David McCullough book to pass the time. It's going to be a glorious day.