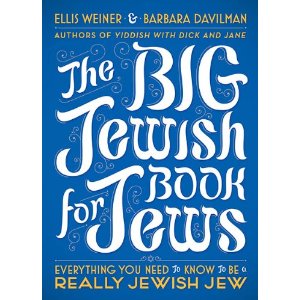 I've been reading The Big Jewish Book for Jews: Everything You Need to Know to Be a Really Jewish Jew. Written by Ellis Weiner and Barbara Davilman, who brought us the equally hilarious Yiddish with Dick and Jane, the book pokes fun at all aspects of American Judaism, from gefilte fish to klezmer music to the sukkah. If you're Jewish, this is the perfect book with which to surreptitiously pass the long hours of fasting on Yom Kippur next month. Even if you're not Jewish, it's a hysterical read.
But it got me thinking: why do Jews have a better sense of humor than Christians?
Look at the evidence. Beliefnet's list of top Jewish comedians: Jon Stewart, Mel Brooks, Don Rickles, Jerry Seinfeld, Chelsea Handler, Billy Crystal, Andrew Dice Clay, Sarah Silverman. (Beliefnet added Woody Allen to its list, too; he'd need therapy if omitted.) There's also a list at CNN with some classic old-timers, including Fanny Brice, Gilda Radner, and Graucho Marx. We can't forget George Burns, Jack Benny, Danny Kaye, and Jerry Lewis.
And in the Christian corner, Stephen Colbert. He's a devout Catholic. And . . . that's everyone.
Oh, sure, there are "Christian comedians" out there, the people your youth conference hires if you want to make sure the kids are entertained by someone who is not routinely dropping the F-bomb. But other than Colbert, are there "out" Christians who are nationally-known comedians? I can't think of any.

One website claims that although Jews constitute only about 2% of America's population, they represent 70% of working comedians.I have no idea where the second half of this statistic comes from, but it certainly feels true, so let's run with it.
Why is this? There is certainly some truth to the idea that great humor is born of pain, and Jews know from pain. They have arguably the most difficult history of victimization over 3,000 years AND they are currently ranked as the unhappiest of all religious groups in America. More Jews describe themselves as depressed than Christians, Muslims, Buddhists, or atheists.
Clearly what's needed is for more Christians to get good and depressed. Then we might have a shot at better comedy.