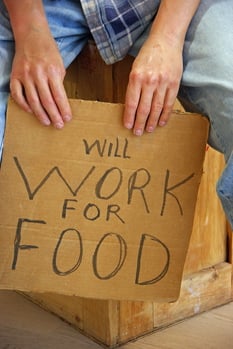 You probably know that next week I'm going to rag on David for little things like adultery, murder, bad parenting and the like. I don't want to be a Debbie Downer all the time, though, so I thought I'd devote this week's Twible to some of the highlights of David's resumé as king. David wrote this in the first person and asked me to pass it on to you, as he's seeking a new executive position. (Salary negotiable, but housing allowance must include provisions for a large and growing family.)
"Conquered the city of Jerusalem (2 Samuel 5). Under my rule, we threw out the Philistines from Jerusalem and ushered in the city's golden age as God's very own pied-à-terre. Earned praise for this in trade journals of Samuel and Chronicles.
Brought the ark to Jerusalem (2 Samuel 6). Following instructions from HQ, I consolidated worship in Jerusalem and destroyed the "the high places" out in the burbs. Established HQ in Jerusalem and commenced realignment of corporate structure, with regrettable layoffs and headchopoffs.
Set up dynasty through a covenant. Improved corporate stability via well-executed strategic partnership with the Godcorp. Received protection and favorable trading status in exchange for unquestioning loyalty and regular animal sacrifice.
Whipped enemies' tails. Successfully eliminated the surrounding competition, including Amalekites, Philistines, Moabites, Syrians, and Ammonites. These acquisitions contributed to double-digit annual profits and increased market share. I shaved costs still further by using slave labor from former enemies.
United the north and south into a single kingdom. Highly successful merger made brand name "Israel" include both north and south for the first time."
Sat 7/10
#Twible 2 Sam 4: Dav's overzealous chiefs kill Saul's son Ishbosheth & bring Dav his head. Doesn't end well for chiefs. New job opening?
Sun 7/11
#Twible 2 Sam 5: Coronation! Israel united, N&S together! Dav king! Take lots of pix now, b/c these happy days won't last. Smile 4 camera.
Mon 7/12
#Twible 2 Sam 6: Dav's contestant on "So You Think You Can Dance Before the Ark of the Lord?" Wife/judge Mia Michal puts Dav in bottom 3.
Tues 7/13
#Twible 2 Sam 7: G hankers for a cedar home in Jerusalem, ranked as #1 city for deities to retire. Good son Dav promises to visit often.
Wed 7/14
#Twible 2 Sam 8: Dav crushes Amalekites, Philistines, Syrians & others. Awesome spoils in slaves, gold, brass, & chariots. Hail to the King!
Thurs 7/15
#Twible 2 Sam 9: Dav seeks out Jon's lame son, all grown up now, for Jon's sake. Dav still remembers his old BFF. Where's m'hanky, Tiny Tim?
Fri 7/16
#Twible 2 Sam 10: Ammonites mock Dav's envoys by shaving beards & exposing butt cheeks. Outrage! "Go away or we will taunt you a 2nd time."
Tune in to Flunking Sainthood every Friday for new Twible installments. Next week, David screws it all up!