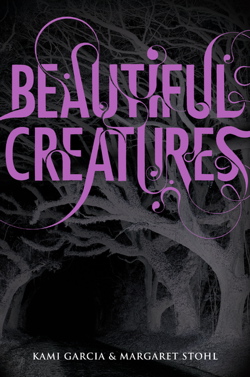 You've probably noticed that I love YA and read far too much of it, but people find out about my passion and then they keep recommending novels. . . . Darn you, people! And darn you, Kevin Stanford, for recommending Beautiful Creatures, which kept me up late two nights running.
Beautiful Creatures is set in a tiny South Carolina town where women clamor to be members of the DAR and men live for the one day a year that the village re-enacts its last stand against Sherman in the Civil War. Er, make that the War of Northern Aggression. The book is as drenched in small-town Southern sensibility as biscuits are in gravy.
Our hero, 16-year-old Ethan Wate, knows one thing for sure: he can't live the rest of his life in Gatlin. He has a stack of college brochures under his bed and is biding his time until he can say good-bye to the town and to what's left of his family, which was ripped in half by his mother's death the year before.
But his life gets a lot more interesting when the hearse-driving Lena Duchannes moves in with her uncle, an odd recluse in a crumbling mansion at the edge of town. Ethan feels compelled to pursue Lena, who is literally the girl of his dreams–she has been haunting his nightmares for months. The two of them become entangled in a relationship that is both sweet and all-consuming as she prepares for what will be the most significant birthday of her life: her sixteenth.
Beautiful Creatures is a well-paced story with a lot going for it. It's not in the same league as some of the best of recent YA (The Hunger Games, Graceling, This Gorgeous Game, Once Was Lost), but it has fantastic descriptions, strong characterizations (even of some of the minor players), and great creativity. There's also a good dose of humor. I look forward to seeing more from these co-authors.
The problem is the final 50 pages, which are rather rushed. The plot does not quite hang together at the end. Some of the plot elements that are hinted at throughout (which I don't want to spoil here, but have to do with a Civil War-era curse, Ethan's mother's death, and how/whether Lena is able to decide her own fate) just don't add up. At roughly 550 pages, this was already quite a tome, and I wonder if the authors hurried the denouement in order to meet a deadline or make a word count. I wish they hadn't, because it would be a richer and more satisfying story if no plot threads were left dangling. Still, it's a fun debut. You can check out the book trailer on YouTube. There's also a sequel (which I hope will answer some of the questions left in the first book) called Beautiful Darkness, coming in October–just in time for Halloween.