Every year I go to the Museum of Tolerance in Los Angeles, CA to bare witness and mourn what fear + anger inflicts on so many families and to remind my broken heart, we are stronger in those broken places when we remember and return to love. Healing is forgiving it isn't forgetting.
Today as I mourn with our Pittsburgh, PA communities I remember one survivors story that opened my eyes as a kid… Gerda Wasserman's story shared in "One Survivor Remembers" awarded the Oscar for best doc and here shared in its entirety in cooperation with the US Holocaust Memorial Museum, HBO and Teaching Tolerance. It effected my so deeply because Gerda's delivery is so quiet and matter of fact, and if I can say, gentle in the face of sharing her experience, holding no bitterness, only the desire to share – so as to testify – love survives.
Each story has some similar variation of 'Hitler broadcast on the radio that he planned on killing jews, and no jewish family would go untouched by his plans to cleanse the motherland.' Many heard the broadcasts and laughed, some wondered, and others thought it isn't possible. In Hitler's writings his hatred of Jews was always outlining his plans for, "The uncompromising removal of the Jews altogether." in letters, speech etc. There are those who bear ill will to others, that use fears to sway and wherever this takes place — whether in act, word, broadcast must be met with love.
"The power of resistance which has enabled the Jewish people to survive for thousands of years has been based on to a large extent traditions of mutual helpfulness." Albert Einstein
Open your heart and stand in the experience of others and see with eyes of love and hear with a heart full of open hearted compassion, take action from this place, there is much work to be done. Let's restore our human connections.
Whatever we are met with — white nationalism, intolerance, fear media, paranoia, murders, or murderous thought —- let's choose love and continue to take loving action.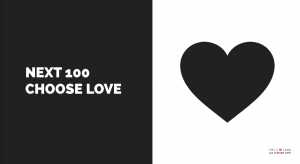 Melanie Lutz is a writer and love activist living in LA, CA.