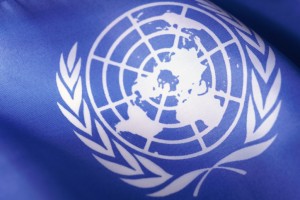 The Internet – a global tool in the exchange of information and ideas. Now, the very way that the Internet operates is being threatened by a proposal from Russia – a move that puts the free flow of information and ideas at risk.
Russia is pushing for a move that would turn over control of the Internet from a US-based entity to the United Nations. This troubling power play would give unprecedented authority to the UN. Such a move would mean only one thing: censorship.
And that is simply unacceptable.
The US strongly opposes this change. The Obama Administration's State Department is against it and both the House and Senate have approved a resolution rejecting the move. Even, the co-creator of the Internet is opposed to this plan saying UN control would threaten "a free and open Internet."
But pressure is growing to support this Russia-led move from other UN-member, dictator-controlled countries. Among those nations that are said to be supporting the Russian proposal: United Arab Emirates, China, Saudi Arabia, Algeria, Sudan, and Egypt.
And if you don't think the goal is to put the Internet under global government control, consider this clause taken from the Russian proposal – clearly putting UN member states and the United Nations at the helm of controlling and regulating the Internet. "Member States should endeavour to establish policies aimed at meeting public requirements with respect to Internet access and use, and at assisting, including through international cooperation, administrations and operating agencies in supporting the operation and development of the Internet."
The Internet is an innovation of the United States and has been managed by a U.S. agency. We are fighting to make sure that America continues to manage the Internet; and more importantly preserve free speech and the free flow of information the Internet provides.
Join with us. Stand up for freedom. Stand up against censorship. That's why we need to hear from you. We've launched a new petition demanding the United Nations keep their hands off the Internet.
Take a moment. Add your name now to our Petition to Reject UN Control of the Internet.
UPDATE: 12/11/2012
In a significant victory for free speech, Russia has withdrawn its proposal at the U.N. to take control of the Internet from a U.S.-based agency and place it in the hands of the U.N. In less than 24 hours, tens of thousands of Americans took a stand by signing the ACLJ's petition demanding that authoritarian regimes like Russia and China not be allowed to take over the Internet and silence free speech. We will continue to monitor any such future U.N. attempts to control the Internet.