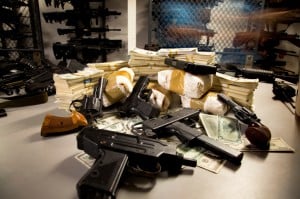 Attorney General Holder was before Congress again today, the second time in a week. This time fielding questions from a Senate committee about Operation Fast & Furious – the Justice Department gun-running program that resulted in the murder of a U.S. Border Patrol agent.
Like his appearance before a House committee last week, today's testimony produced more exchanges, but nothing new in the way of specifics about what he knew and when – key information that he has failed to produce on numerous occasions.
Today's testimony comes just eight days before the House Oversight and Government Reform Committee is scheduled to vote to determine whether Holder should be held in contempt of Congress over Fast & Furious.
In scheduling the vote, Committee Chairman Darrell Issa (R-CA) said Holder "failed to meet his legal obligations." As Rep. Issa put it: "The Obama administration has not asserted Executive Privilege or any other valid privilege over these materials, and it is unacceptable that the Department of Justice refuses to produce them." House Speaker John Boehner said the DOJ is "out of excuses."
How did the Justice Department react to this news? A Justice Department spokesperson called the scheduled vote "unfortunate and unwarranted."

The truth is what is really "unfortunate and unwarranted" is the Attorney General's continued refusal to cooperate fully. Withholding information and refusing to spell out details about this botched program – even as new information surfaced, as we reported last week – new wiretap information that revealed top high-ranking Justice Department officials – and perhaps the Attorney General himself – knew more about Fast & Furious than they were telling Congress.
In testimony today before the Senate Judiciary Committee, more fireworks, with Senator John Cornyn calling on Holder to resign.
"It is more with sorrow than regret and anger that I would say that you leave me no alternative, than to join those who call upon you to resign your office," the Texas Republican said. "Americans deserve an attorney general who will be honest with them. They deserve an attorney general who will uphold the basic standards of political independence and accountability. You have proven time and time again, sadly, that you're unwilling to do so. I'm afraid we have come to an impasse… you have violated the public trust, in my view."
Holder said he has no intention of resigning. And, in fact, tried to paint a picture of compromise today saying he believes a deal over the documents could be reached. "I myself am offering to sit down with the speaker, the chairman, whoever, to try to work out a way through this in an attempt to avoid a constitutional crisis," Holder said.
But Congressional Republicans see this latest this "olive-branch" offer for what it really is – another tactic to delay and stonewall. A spokesman for House Speaker John Boehner said he's willing to meet with Holder, but only after the Attorney General first complies with congressional demands for documents and information.
Holder can avoid the contempt vote. All he has to do is comply and release the information before next Wednesday. But with his track record on this issue, and continued lack of cooperation, don't count on it.