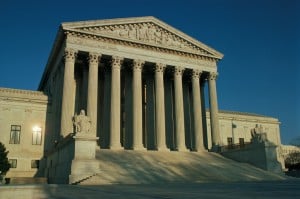 It is a critically important week at the U.S. Supreme Court. In a term that includes several blockbuster cases, the Justices will hear oral arguments on Wednesday on the constitutionality of Arizona's immigration law, S.B. 1070. S.B. 1070 made it a state crime to be in the country illegally and stated that an officer engaged in a lawful stop, detention or arrest must, when practicable, ask about a person's legal status when reasonable suspicion exists that the person is in the U.S. illegally.
The Obama Administration's Department of Justice went to court challenging the measure, claiming the law is unconstitutional.
The fact is that Arizona acted properly and lawfully in crafting this measure. And, we filed a vital amicus brief with the high court backing the Arizona law on behalf of 57 members of Congress and more than 65,000 Americans.
In a debate on FOX News this morning, I argued that states like Arizona have a right to protect their citizens and borders, especially when the federal government fails to do so.
http://www.youtube.com/watch?v=L8_bqStWcqc
In our amicus brief filed with the high court, we make a compelling argument that the 9th circuit's decision in this case should be overturned by the high court because the federal appeals court provided a faulty legal analysis that "tramples upon federalism by stripping the states of their plenary police power to enforce federal law in accordance with federal standards or enact state law that does not conflict with federal law."
Let's remember that this assault on Arizona and other states is under the direction of Attorney General Holder and the Department of Justice. Arizona is just the beginning. The DOJ is already challenging Alabama's illegal immigration law, and we've filed an amicus brief backing that measure in a federal appeals court. Other states are considering legislation as well to protect their borders and citizens.
Stand with the ACLJ – send Attorney General Holder and the DOJ a message – Stop obstructing states that have a constitutional right to protect their citizens and borders. Add your name now to our Petition for a Secure Border.
States are facing incredible and serious challenges. The federal government has failed to protect its citizens. States have a valid role to play and have an obligation to protect their citizens and secure their borders.
Add your name to our petition now.