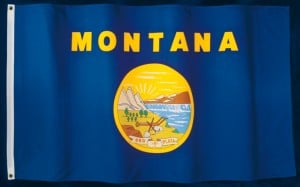 You spoke out. And the federal government listened. A powerful victory in Montana, where the Forest Service has decided to keep in place a war memorial – a statue of Jesus – that's been on a mountain for more than half a century in Montana.
The Forest Service issued its decision in the matter, renewing a special use permit that will keep that statue in place for another ten years.
This memorial was under attack by the Freedom From Religion Foundation (FFRF), an atheist group.
You may recall that in December, we sent the Forest Service a letter on behalf of more than 70,000 concerned individuals. In our letter, posted here, we argued that this statue of Jesus does not convey any government religious endorsement of religion. Instead, this historically important memorial is designed to commemorate the sacrifice made by those killed in World War II.
The statue of Jesus was put in place on Big Mountain at the Whitefish Mountain Resort in Montana in the 1950's by WW II veterans who were also members of the Knights of Columbus. The veterans were inspired by monuments they saw in the mountains of Europe during the war. The statue of Jesus, they said, was put in place to commemorate the service of local WW II veterans – a war memorial.
But FFRF, which opposes the National Motto, the National Day of Prayer and the Pledge of Allegiance – challenged the display. The group called the Montana memorial "a ruse and a sham" and demanded the Forest Service end a long-standing lease – a move that would force the display to be removed. The government initially agreed with FFRF to end the lease. But a massive public outcry ensued, and the government put that decision on hold – reopening the issue to public comment.
 
And public comment came in. The Forest Service said it heard from some 95,000 individuals – more than 70,000 names were delivered to the Forest Service with our letter – concerned people from across the country who spoke out.
That response made a tremendous difference. In announcing its decision to keep the Jesus statue in place, Chip Weber, Flathead National Forest Supervisor said: "I understand the statue has been a long-standing object in the community since 1955, and I recognize that the statue is important to the community for its historical heritage based on its association with the early development of the ski area on Big Mountain."
The Forest Service noted that the statue's historic value and eligibility for listing on the National Register of Historic Places is in part directly linked to the current physical location of the statue.
The decision to keep the statue in place represents a significant victory in defense of the history and heritage of the region. It also represents a sound defeat for the FFRF.