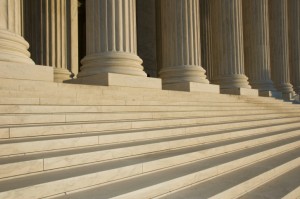 The Supreme Court of the United States has taken yet another hot button issue this term. Today the high court agreed to hear Arizona's appeal on its immigration law – a case that we had urged the high court to take in an amicus brief filed on behalf of nearly 60 members of Congress and nearly 60,000 Americans.
In taking the case, the high court will now determine whether Arizona's S.B. 1070 – which we argue in both a sensible and constitutional method of targeting illegal immigration – is constitutional and whether key components of the law, which were put on hold by a federal appeals court, can go into affect.
Arizona's law reflects a sound and sensible effort to protect its citizens and its borders. The fact is that Arizona's law, as we argued in our amicus brief posted here that the measure is not only appropriate and proper, it mirrors federal immigration law and incorporates federal standards.
In our brief, we argued that "the Ninth Circuit's decision undermines federalist and separation of powers principles by permitting the Administration's policy preferences to trump Congress's statutory acknowledgement that states have inherent authority to enforce laws that profoundly affect their citizens' welfare. The Ninth Circuit's decision effectively leaves the states powerless over unchecked illegal immigration and the associated social and economic costs that their citizens must bear."
Our brief supported efforts filed by the state of Arizona asking the high court to take the case and reverse the 9th Circuit.
"Arizona bears the brunt of the problems caused by illegal immigration," writes lawyer Paul Clement, a lawyer for the State in court briefs. "Arizona has repeatedly asked the federal government for more vigorous enforcement of the federal immigration laws, but to no avail."
An interesting development today as the high court agreed to take the Arizona case. Supreme Court Justice Elena Kagan is recusing herself, presumably because of her role as Solicitor General in the Obama Administration. No official reason was given but her decision not to take part in the case is thought to be tied to her work on the issue when she served as Solicitor General.
This is a decision that will have dramatic ramifications as other states consider legislation to protect their citizens and borders. Similar legislation is pending in Utah, South Carolina, Indiana, Georgia and Alabama.
Yes, we represented members of Congress and thousands of Americans on this issue in the past. Now, with the case at the Supreme Court, our efforts begin anew. We'll be working on securing representation from members of Congress and asking you to stand with us – to urge the Supreme Court to uphold Arizona's immigration law. 
We have formed the Supreme Court Committee to Secure Our Borders. Add your name now.
As you know, another block buster case is now before the high court – the constitutionality of ObamaCare will be decided as well. With today's announcement, there will be legal clarity on two key issues – just in time for the run-up to the November 2012 elections.