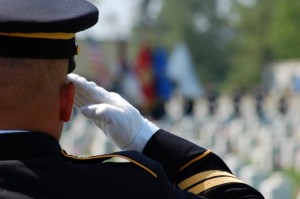 Veterans Day – it is a day to honor those men and women of the U.S. Armed Forces – the veterans – those still serving – a day to honor their sacrifice and service in protecting our freedoms, our way of life.
As you may know, this special day dates back to the end of World War I fighting in 1918 – then called Armistice Day. In 1938, the day was enshrined by the U.S. Congress as a day dedicated to world peace in honor of World War I veterans. Of course, over the years, Veterans Day took on even greater significance.
The U.S. Department of Veterans Affairs has produced this short video honoring our veterans and our troops.
And on this day – we pay tribute to those men and women – remembering those who are serving now – and those who have served America more than half a century ago.
Heroes like 20-year-old Lance Cpl. Evan Reichenthal – a Marine who was on patrol in Afghanistan earlier this year when an improvised bomb exploded under his feet. It took 26 surgeries and months of hospitalization and rehabilitation, but he's on the mend. He's walking now and hopes to be snowboarding soon. "It puts life into perspective when you almost die," he said. Just yesterday, he was honored for his service by Boston's Semper Fidelis Society on the Marine Corps' 236th birthday. In a quiet moment, he pointed with pride at the Combat Action Ribbon and the Purple Heart on his chest. "These I earned with blood."
Now, let's turn the clock back – 70 years. The men and women who served in World War II. A very special day for them as well. Take a look at the faces of these heroes – in this compelling photo presentation posted at CNN.
On this Veterans Day 2011 – on behalf of the entire ACLJ team – to the men and women of the U.S. military – I want to say "thank you" for your service. For your dedication. For your sacrifice. Thank you and God Bless our veterans and our troops.