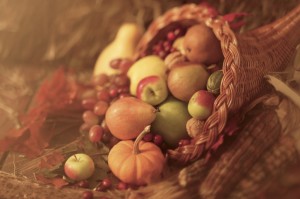 Giving thanks.
Two words that have resonated with Americans from the very beginning. One of the first accounts of a Thanksgiving celebration dates back to 1621 when Pilgrims and Native Americans shared a meal in Plymouth.
Nearly 170 years later, President George Washington issued a proclamation naming Thursday, November 26, 1789 as an official holiday of "sincere and humble thanks." And, in 1863, President Lincoln made the traditional Thanksgiving celebration a nationwide holiday to be commemorated each year on the fourth Thursday of November.
Thanksgiving – a uniquely American holiday. A time to pause. A time to give thanks.
Even with all of the challenges facing America, we are truly blessed – a nation built on faith and family. And nearly all Americans remain grateful, with a new poll finding that 96% of voters feel thankful, with 79% who feel "very" thankful.
It is important that we remember the blessings that God has bestowed upon us – life, liberty, religious freedom, and so many more.
It is also crucial that we renew our resolve to protect the blessings of our liberty. As Patrick Henry once said, "No free government, or the blessings of liberty, can be preserved to any people but by a firm adherence to justice, moderation, temperance, frugality, and virtue; and by a frequent recurrence to fundamental principles."
Our rights must never be taken for granted – they must be protected.
Since our founding more than two decades ago, defending life, liberty and religious freedom has been the cornerstone of our work at the American Center for Law and Justice. It was central then, even more important now.
On behalf of everyone at the ACLJ, Happy Thanksgiving to you and your family.