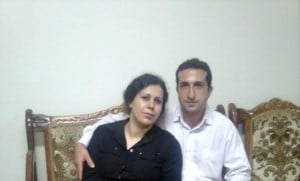 There's a growing call to free Pastor Youcef, the Christian pastor sentenced to death in Iran because of his religious beliefs. This comes at a time when the fate of Pastor Youcef now appears to be in the hands of Iran's Supreme Leader Ayatollah Ali Khamenei.
According to news reports, we now know that Ayatollah Khamenei will decide whether Pastor Youcef lives or dies. According to Youcef's lawyer, Mohammad Ali Dadkhah, "the court has decided to ask the opinion of Mr. (Ali) Khamenei." Ayatollah Khamenei is an Islamic jurist and the final arbiter of questions of Shariah law.
With this new development, it is crucial that our top diplomat, Secretary of State Clinton, call for Pastor Youcef's unconditional release. And today we're hand-delivering a petition to Secretary Clinton on behalf of nearly 155,000 Americans to engage Iran at the highest levels to secure the release of Pastor Youcef. As the petition states: "As other world leaders denounce Iran's condemning this man to death just for being a Christian, it is critical that America – the land of liberty – take a stand and pressure Iran to release Pastor Youcef." If you haven't signed on to this petition, there is still time. Add your name today.
Please continue to pray for Pastor Youcef. You can get updates about this case on our website.