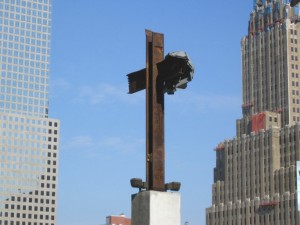 You already know about the legal issues involving the battle over the Ground Zero cross – the twisted steel beams – the wreckage from the Twin Towers – formed into the shape of a cross at the site.
You already know about the lawsuit filed by the American Atheists challenging the cross, claiming that their plaintiffs are experiencing "depression, headaches, anxiety, and mental pain and anguish" – not from the devastating destruction of life caused by the terrorists on 9/11 – but as a "direct and proximate result of the unconstitutional existence of the cross."
You already know about our commitment to defend the cross in court as we prepare to file an amicus brief representing thousands of Americans – standing up for the constitutionality of this historic and vital part of 9/11 history.
What you may not know is that there's a new effort underway to protect this symbol of hope and comfort – a legislative effort by Congressman Michael Grimm of New York. He is introducing legislation entitled the 9/11 Memorial Cross National Monument Establishment Act of 2011, which will establish the 9/11 Memorial Cross located at the 9/11 Memorial Museum in New York City as a national monument.
In an interview on Jay Sekulow Live, Rep. Grimm said the actual steel beams – part of the wreckage from Tower One – has become a symbol of hope – a symbol of courage – not only for the families who lost loved ones in that tragic attack, but for the countless number of Americans affected by that horrific event.
"This is the perfect opportunity to take a stand and affirm the fact we are a nation that was built on a belief in God," he told our radio audience. "Because of our religious freedom you can choose not to believe in God, but that doesn't mean we should be denying those who do have faith."
We couldn't agree more. We stand ready to defend the cross in court. And, we applaud legislative efforts like Rep. Grimm's to ensure that this part of 9/11 history is protected. The fact is that steel cross is a very emotional and powerful symbol – which has the overwhelming support of most Americans.
Whether it's through legal or legislative means, the Ground Zero cross must remain in place.
Get frequent updates on this issue and others on our website and by visiting the Jay Sekulow page online.