It's an issue that you will be hearing a lot more about.
 
Delta Air Lines is partnering with Saudi Arabian Airlines, the government-owned airline that embraces discriminatory policies targeting religion, ethnicity, and gender.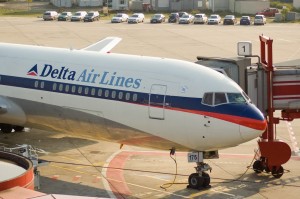 In announcing the partnership in January, Delta issued this statement as part of its press release: "We are honored that Saudi Arabian has chosen to link its future growth and success with Delta and our SkyTeam partners, while bringing our alliance greater access to destinations across the Middle East."

Delta says it does not discriminate in its business practices, but then says it cannot control what other nations do.  Delta can't have it both ways.  If you choose to do business with a government that discriminates on the basis of religion, ethnicity, and gender – you simply cannot brush it aside. 
The fact is that with this new alliance, there's real concern that American Jews will be prohibited from flying into the country.  Even non-Jews with an Israeli stamp in their passport could be targeted.  And, of course, U.S. citizens who are Christian are in the danger zone as well, often facing blatant discrimination in Islamic countries like Saudi Arabia where Sharia Law is embraced.
Read more about this issue here.
For Delta to form a business relationship with a country that has a disturbing record of human rights violations is not only problematic, but warrants further scrutiny from the federal government and Congress. 
We've mobilized both legal and legislative teams and we're calling for the Federal Aviation Administration (FAA) to get involved, and for Congress to probe this troubling deal.
In fact, already on Capitol Hill, there's a call to get to the bottom of this.  U.S. Senator Mark Kirk (R-Illinois) has sent a letter to the FAA to investigate these concerns.
 
"I request your investigation into this matter to determine whether Delta Airlines violated U.S. law or regulation and to ensure no U.S. citizen is denied their right to fly solely on the basis of their religion." Sen. Kirk wrote in a letter to the head of the FAA.
We believe this is an issue of the utmost importance and we're confident members of Congress will want to examine this transaction and relationship very closely, as they should.
In addition to our demand that Delta cut ties with the Saudis, we're launching a national petition campaign – urging thousands of Americans to express their concerns about the Delta/Saudi alliance.  The petition is posted here.
Delta can do the right thing. It should cancel this business relationship and it should do it now.