Very few cases make it to the Supreme Court of the United States. But, there's a case out of Utah that has significant ramifications – a case that we believe the high court should hear.
Here's the background:
The Utah Highway Patrol Association, a private, nonreligious organization, erected Latin crosses that conspicuously displayed, along with the Highway Patrol logo, the names, pictures, ranks, badge numbers, service information, and years of death of Utah Highway Patrol officers who died in the line of duty. The Association erected the crosses in locations safely accessible to the public that were as close as possible to the sites where the officers died. The crosses were intended to serve as memorials to the officers' service and sacrifice and to remind drivers of the importance of driving safely.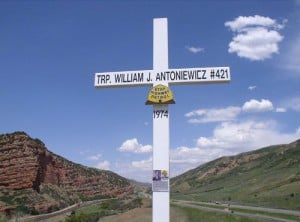 An atheist organization challenged these cross memorials and last summer a federal appeals court declared that they violate the Establishment Clause of the U.S. Constitution. The federal appeals court also stayed an order that would remove the crosses immediately, giving the state time to appeal to the Supreme Court.
Now, the high court has been asked to take the case – with the Attorney General for the state of Utah making a formal appeal last month. Today, we filed an amicus brief urging the high court to take this case, and to overturn the 10th Circuit, clearing the way for these cross memorials to remain in place.
In our amicus brief, we note that the Justices, not long ago, weighed in on a similar case and decided that a WWI war memorial that included a cross is constitutional.
The high court should reach the same conclusion in this Utah case as it did in April 2010 in the case of Salazar, Secretary of the Interior, et al., v. Buono, (08-472). With that decision, the high court ruled that the memorial in California's Mojave Desert that features a memorial cross can remain in place. A plurality opinion by Justice Anthony Kennedy observed: "A cross by the side of a public highway marking, for instance, the place where a state trooper perished need not be taken as a statement of governmental support for sectarian beliefs. The Constitution does not oblige government to avoid any public acknowledgment of religion's role in society. . . . Rather, it leaves room to accommodate divergent values within a constitutionally permissible framework."
Our brief is posted here.
This case represents just another troubling example of the courts being used to remove symbols to honor those who have given their lives in service to others – in this case, Utah Highway Patrol officers. The truth is that the mere existence of a religious symbol in a public place need not trigger a constitutional crisis.
The federal appeals court got this one wrong. The Supreme Court should step in and correct this flawed decision.