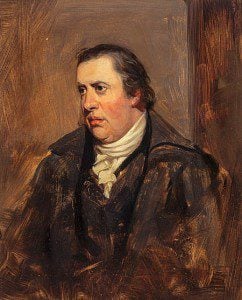 He was the first editor of the Encyclopaedia Britannica, and his racy style and talent for aphorisms made it an immediate popular success. He was a friend of the poet Robert Burns, who described him as "that old Veteran in Genius, Wit and Bawdry."
Scientist, writer, master printer, natural philosopher, encyclopedist, bon vivant, William Smellie (1740-1795) was a man of many parts with very definite ideas about dreams. He was a Scot who wanted to rescue the study of dreams from the "dark theological horror" of the Calvinist imagination that had taken hold of many of his countryman.
Smellie (wonderful name!) insisted that dreams are neither escapist fantasies nor wiles of the devil, but a mirror in which we see the true shape of our desires. We may deceive ourselves, but dreams do not lie. In his article on dreams in the first edition of the Encyclopaedia Britannica, he declared that "the imaginary transactions of the dreamer always bear some relation to his particular character in the world, his habits of action, and the circumstances of his life." Therefore, "a person whose habits of life are virtuous does not in his dreams plunge into a series of crimes; nor are the vicious reformed when they pass into this imaginary world."
Smellie took this argument further in The Philosophy of Natural History:
The vice which is most frequently and luxuriously indulged in our dreams, may safely be esteemed our predominant passion. Though motives of interest, decency, and the opinions of our friends, may have restrained us from actual gratification, and created a delusive belief that we are no longer subject to its solicitations; yet, if the imaginary gratification constitutes an agreeable dream…we may freely conclude..that those motives which deter from actual indulgence are not the genuine motives which virtue inspires…We should reflect that, during sleep, the mind is more ingenuous, less inclined to palliate its real motives, less influenced by public opinion, and in general, more open and candid, than when the sense are awake.
Let's notice that this philosophy of dreams implies that we are responsible for our actions in dreams, just as in waking life. We should compare our behavior in dreams to our behavior in regular life and use the dream mirror to correct our performance.
Image: Portrait of William Smellie by George Watson in the Scottish National Portrait Gallery