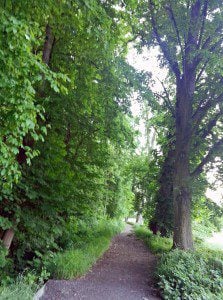 Janice likes to walk dreams, as you or I might walk the dog. Sometimes she walks her own dreams. As a teacher of Active Dreaming who plays guide for others, she often walks other people's dreams, like one of those professional dog-walkers you see with half a dozen canines of all sizes on a fistful of leashes. As she strolls around, she finds that fresh insights come to her easily and naturally. Sometimes an incident gives her a second opinion on a dream. This might be the sigh of the wind in the trees, or the flight of a bird, or a snatch of overheard conversation.
I love this approach, which has something in common with Jung's preferred mode of "circumambulation" in approaching the meaning of a dream. Jung felt that he came closer to the heart of a dream when he wandered around it, looking at it from different angles, rather than trying to mount a direct assault on its inner keep.
So walking a dream can be just what the phrase suggests. Janice – a shrewd and stylish New Yorker who worked in sales for many years – adds a further twist to her dream walking. "I like to wear my dreams the day after," she says. This might mean dressing in the style or dominant color of a dream or carrying accessories that evoke something of the dream.
Let's review some other options for walking our dreams.
Make a dream amulet
One of the most ancient is to create or obtain an object that can serve as a dream amulet, holding and focusing the energy and guidance of a powerful dream.
Research assignments
Research is often an action required by a dream. Dreams can prompt us to do detailed research on content, ranging from an obscure word to the natural habits of an animal that appeared or a way of fixing a fuse box. This can go far beyond simply clarifying the initial information. Dream clues can put us on the trail of very important discoveries, ranging from our connection to a spiritual tradition that is calling us, to a new book idea, to what's going on behind closed doors in Washington.
Jung said that his dreams spurred all his important study. "All day long I have exciting ideas and thoughts. But I take up in my work only those to which my dreams direct me." My own studies are similarly guided, but I would expand the word "dreams" to include waking experiences of meaningful coincidence when we feel we are receiving a secret handshake or a nudge or a wink from the universe.
Feed your dream animals
When you dream of a certain animal, you want to research its natural habits and habitat to understand its relevance to you and the way you relate to the natural path of your energies. This means doing something better than just consulting some guide to animal totems; it means studying it in the way of a naturalist, in nature if possible – perhaps on the way to feeding and nourishing it in your body, and in the way you use that body.
Apply navigational guidance from dreams
The action a dream requires may be to carry and apply its navigational guidance. It's my impression that the dream self is forever traveling ahead of the waking, scouting the roads we have not yet taken. By studying closely where our dream self has traveled into the possible future, we can decide whether we want to follow in its tracks, or take a different way. We may see a future event we cannot change but can handle better – and help others to handle better – because we remember and apply what showed up on or dream radar.
Create from dreams
Many dreams invite us to create from them and with them, through our favorite media and also through media with which we may be less familiar or less confident. Write, sculpt, draw, dance, paint, move with the dream, and if you have friends or family who'll play, turn it into performance or theater. Some dreams want to explode into paint on canvas. Others flow effortlessly into poetry. Some make us pick up our feet and move or dance. Some get us down on the floor with crayons or cutting up old magazines with scissors for a collage. Some dreams want to be baked or stirred.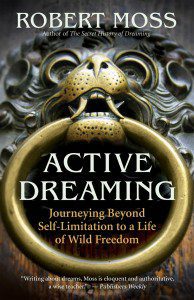 Text adapted from Active Dreaming: Journeying beyond Self-Limitation to a Life of Wild Freedom by Robert Moss. Published by New World Library.
"Path in Grandmother's Valley" photo (c) Robert Moss