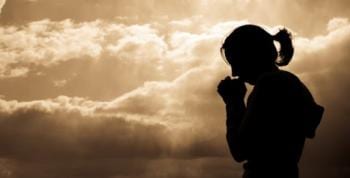 Does God love the depressed? The answer is yes. But for a Christian, it may not always feel like God is on your side, or that you are loved.
Christians are told to fight the good fight against evil, and to be on guard against spiritual attack. Sadly, the Church has in the past made depression out to be a character flaw, a weakness that invites spiritual attack or evil in. In other words, the person isn't spiritually strong enough to resist depression.
Depression is not a sin.
The Bible does not call depression a sin. In fact, the Bible is full of people who were depressed and whom God loved. King David, Jonah, Job, Elijah, Paul. These people experienced severe depression and even asked God for death.
Elijah laments: "It is enough: now, O Lord, take away my life, for I am no better than my fathers." (Chapter 19:4 )
God doesn't respond by killing Elijah with a lightning bolt. Instead, God comforts Elijah with an angel who gives food and water. God saves Elijah's life right when Elijah wants that life to end. God is love, and that love pours forth to everyone.
Recognize depression for what it really is.
Too many times, depression is misunderstood or misdiagnosed. It's a spiritual attack, the result of some sin, or evil thoughts. Yes, depression can result from negative life experiences. But depression itself is a mental illness that changes brain chemistry and wrecks havoc on the body.
Seen in that light, it's easy to realize that of course God loves the depressed. God loves the injured, the sick, the dying. If you're suffering with depression, you are injured. Your body feels sick. You feel dead emotionally and spiritually.
It's during those times that God extends his love through grace to you. You aren't alone in your suffering, though you might feel that way.
What to do for the depressed.
There are a couple of things you can do to help someone depressed.
Listen actively to what the person is saying.
Don't judge. Just accept what is said is the person's perception and feelings towards events.
Don't just quote Bible verses and walk away. The verses won't cure the medical condition of depression.
Keep private what the person says. Don't gossip or tell others what the person said. The only exception is if the person is talking about suicide.
Acknowledge that the pain is real. Don't say it's just in the head.
Does God love the depressed? Yes!
Praise be to the God and Father of our Lord Jesus Christ, the Father of compassion and the God of all comfort, who comforts us in all our troubles, so that we can comfort those in any trouble with the comfort we ourselves receive from God. (2 Corinthians 1:3)
Find me on twitter @tereziafarkas or visit me at https://www.tereziafarkas.com