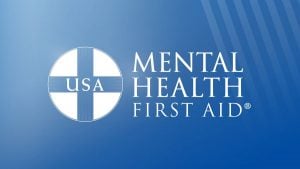 Did you know there are mental health first aid courses? I didn't. Then I got an email from my local mental health organization promoting a series of mental health first aid courses. What a great idea! After all, if  you sprained your ankle, you'd get some type of first aid. So, mental health first aid should be as common as CPR or getting a splint for a broken bone.
Why does mental health need first aid?
Emotional and mental health are constantly changing. Every day has its ups and downs. Stressors and unexpected situations develop without a moment's notice. If a person is particularly emotionally vulnerable, the stressor might set off a full-blown mental health crisis. That's when friends, family, and co-workers need to know how to deal with a mental health crisis.
The Mental Health First Aid (MHFA) was developed by counsellors, researchers, and people of lived experience (soldiers, firefighters, students, business people) to help a person give initial support to someone who is experiencing a mental health crisis. MHFA teaches mental health first aid techniques. The course is open to all ages, genders, and races. Because mental health is a universal problem, companies are offering MHFA courses. These courses help identify warning signs of mental health issues, and teaches several different methods of involvement and intervention.
Early detection helps in recovery
Usually when you're depressed and regressing into a darker mood, you don't realize it. It's the people around you who notice the sudden mood swings, and the changes in attitude and behaviour. It's these people who need tools to help you. These people need to know what to do if you suddenly decide to harm yourself.
Like in any injury, early help is important in mental health for stopping the hurt and starting the healing. The quicker a mental health problem or crisis is recognized and given help, the better the chances of a successful recovery.
How does MHFA work?
MHFA teaches you to identify, understand, and respond to signs of mental illness and substance use disorders. Courses are usually 8 hours, and there is no certificate. It's recommended to take a refresher course every three years.
"Mental Health First Aid skills can be applied anytime, anywhere, and to anyone in distress, be it a brother officer exhibiting symptoms of PTSD, an unemployed friend displaying signs of severe depression, or a teenage family member presenting evidence of self-injury."–Capt. Joseph Coffey,Rhode Island
Role of a mental health first aider
As a Mental Health First Aider, you are the contact point, and guide the person to help. You are not a therapist, nor are you expected to be one. Your task is simply to de-escalate a crisis, so the person can get help.
As a mental health first aider, you must be non-judgemental. It's one of the most difficult things to do in an emotional situation. Part of your role is assessing the person with a mental health crisis. You learn how to listen and talk non-judgementally.
Sometimes a situation can escalate. It could lead to self-harm or suicide. MHFA teaches you how to deal with this type of situation. It also prepares you through practice – role playing, scenarios, and activities – to apply your skills so you don't panic when the real thing happens.
In the basic Mental Health First Aid course you learn how to deal with substance overdose, suicidal behaviour, panic attack, acute stress reaction, and psychotic episode. The courses prepare you to be hands on in an actual mental health crisis, so you can act confidently and actually help the person.
For more information, contact  Mental Health First Aid,  a United States national program. Mental health first aid is an idea whose time has come.
Find me on twitter @tereziafarkas