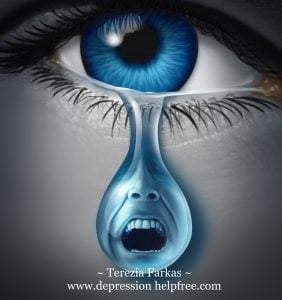 The truth about crying is simple. Really. It's okay to cry. There's no shame in it. No weakness. After Tom Zuba lost three family members, he decided to make the journey of grief easier. Ultimately, we don't talk about grief. We don't allow ourselves to experience it. That needs to change. This is one of Tom Zuba's poems, reprinted from his blog. Share it.
From a very early age
the world has told us
over
and over
and over
again
that it's not okay to cry.
That crying is a sign of weakness.
That there is shame in crying.
That people who cry are "less than."
We wear bracelets
(some of us)
that say LiveStrong
believing that means
no tears.
Ever.
And when someone we love
dearly
dies
we continue to blindly believe
that message.
That it's not okay to cry.
We work
really,
really,
really hard
to convince ourself that it's true.
That we shouldn't cry.
The world has been lying to us.
And we believed all of it.
We didn't know any better.
How would we?
Crying is a human,
normal,
appropriate,
healthy,
healing
response when someone we love dies.
Crying helps us heal.
Crying washes away the old
and makes room for the new.
Have mercy on yourself.
Give yourself permission to cry.
Cry.
Cry.
Cry.
If not now, when?
There is a new way to do grief
and it includes crying.
Pass it on so others will know.
Visit me on Twitter. Toss me a comment or two. I'd love to hear from you.
Twitter: @tereziafarkas #grief #goodgrief #love