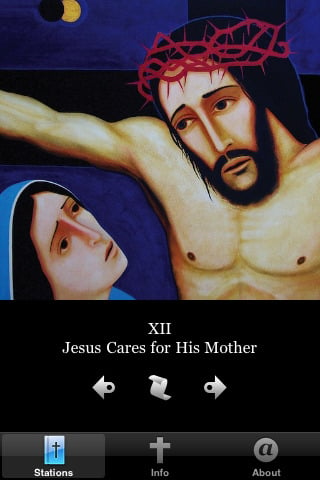 You can pray the rosary on your iPhone — and now, the Stations of the Cross:
A new iTunes application is being offered to give busy people a way of praying the Stations of the Cross anytime, anywhere.

Ave Maria Press announced the launch of this application, which is being offered as a free download for the iPhone and iPod touch.

It was created "with busy people in mind and is the perfect pocket devotional," the press release noted. It is also a helpful resource for those who cannot always make it out the parish Lenten devotions.

One of the first users, Mary Ann Johnson, affirmed, "I needed a way to do the Stations of the Cross at home and this was most enjoyable and prayerful."

"At 60 years of age," she said, "I know that this will be the way of the future. I would like to see more applications like this."

The press release recalled the words of Benedict XVI for World Communications Day, when he urged the faithful to "proclaim the Gospel by employing the latest generation of audiovisual resources (images, videos, animated features, blogs, websites) which, alongside traditional means, can open up broad new vistas for dialogue, evangelization and catechesis."

Dianna Leinen, Institutional Marketing Coordinator at Ave Maria Press, explained to ZENIT the inspiration behind the initiative.

"This past Christmas I received an iPhone as a gift," she said, "and immediately became hooked on downloading applications of all kinds."

"I found a vibrant community of Catholic 'gadget geeks' like myself looking for Catholic iPhone content," Leinen stated. "This led me to wonder how Ave Maria Press resources might also find a home in this new technology."

"The Stations of the Cross app is an exciting introduction because it combines a beautiful user interface with rich Catholic reflections that encourage prayer anytime, anywhere," she concluded.
Visit the link for more. You can also find more info at the iTunes link.