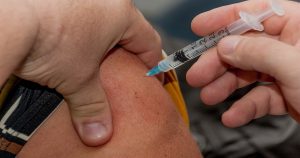 By now, you have probably heard the idea that vaccinations cause autism. You've probably also heard about those claims being completely false. Some parents, however, still are refusing to take those chances.
At an alarming rate, families are choosing to not have their children vaccinated, and doing so through religious exception.
Vaccination laws allow for only two exemptions to vaccinations, either medical or religious. Medical exemptions are far less common and must be done by a state-licensed physician. Religious exceptions, on the other hand, require little verification.
For North Carolina, for example, the exemption requires no proof of membership to a house of worship, no signature from clergy, nor does it require any notarization from an attorney. Instead, all a parent or guardian has to do is submit a "statement" – one for each child – to the school, day care center or camp only, and not to the state for review or approval.
"People who lived through these diseases that killed their children were so desperate for the vaccine they wouldn't have dreamed of refusing them," said Dr. Gabriela Maradiaga-Panayotti, a Duke Hospital pediatrician. "There are many people now who don't think this is an active issue. They don't think it's going to affect them or their child and what worries me is how we are getting the information to these families."
According to the Centers for Disease Control and Prevention (CDC), measles reemerged as early as January 2018. By that summer, health officials reported 107 cases in 21 states.
This year, confirmed cases of measles have skyrocketed to 1,241 – the most since 1992. The majority of those cases are linked to outbreaks in New York, but health officials have reported outbreaks in 30 other states. The majority of the people who got the measles were unvaccinated.
Parents in states with strict vaccination laws, such as New York, are choosing to take their kids into homeschooling or moving all together, when denied the right to let their children attend public schools due to non-vaccination.
"They're leaving. They're either homeschooling, or they are leaving," Assemblyman David DiPietro of New York said.